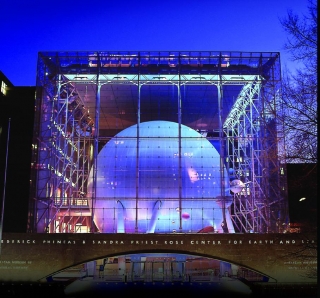 Linda Kaye's Birthdaybakers Partymakers has created four exciting new ways to transform your child's birthday into an unforgettable event at the American Museum of Natural History.
Every Partymakers celebration blends learning and wonder with traditional birthday party fun. Each birthday child shines in a chief role leading the party and is made to feel like a star.
Parties are designed for children ages 4 - 10. The maximum number of children per party is 25. Parties can be held 7 days a week for a length of 2 hours!
Party Descriptions
Underwater Treasures (Ages 4-8)
Dive through 20,000 leagues of birthday fun in the Millstein Hall of Ocean Life, where the birthday child and friends examine the wonder of life beneath the waves. The Master Mariner and his first mates will spot a broad spectrum of sea creatures--from octupi and giant squids to hammerhead sharks and dolphins. Party guests even succeed in Finding Nemo! Ever present is the giant of the sea - the Great Blue Whale! Want to add some fantasy to your party? Invite a Pirate or a Mermaid or even Captain Jack Sparrow to make an appearance at your party!
Underwater Themed Party Favors »
Safari Adventure (Ages 4-8)
The birthday child and friends will trek through the Hall of African Mammals on a fantastic adventure stretching from the heart of the jungle to the grassy plains. Peering beneath the brims of their pith helmets, party guests will track mammoth elephants, lions, gorillas, and other wildlife through this historic exhibit. Of course, the birthday child rules the day as King of the Jungle and should practice a mighty roar in advance. Want to add some extra adventure? Add Indiana Jones to your party!
Dinosaur Discoveries (Ages 4 and above)
Two hundred million years ago, dinosaurs ruled the earth, only to disappear and leave nothing but fossils behind. Partygoers learn how paleontologists use such evidence as tracks and bones to unravel the mysteries of these tremendous animals. As they quest through the dinosaur hall in search of a treasure, the guests learn a tremendous amount about these extinct animals and have a lot of fun. Make the party extra special, add a balloon artist to make balloon dinosaurs for you guests or have a surprise visit from a Jurassically popular costumed character!
Dinosaur Themed Party Favors »
Cosmic Blast-Off *
(Ages 7 and Up) Planetarium Visit
*This theme is available for ages 4-7 with a costumed character or science show, at an additional cost.
Calling all space heroes! Get ready for the most exciting galactic adventure on this side of Jupiter. The birthday child pilots the party as Astronaut-in-Command and leads the way through the solar system at the Rose Center for Earth and Space. For ages 7 and up, at the Hayden Planetarium show is recommended (ticket cost is additional). For younger ones, take your party out of this world! Have an Alien visit your party, or our friendly Buzz Lightyear who takes you through a space mission, to the infinity and beyond!
Imax Movie Magic
Out with Octonauts and in with Instagram! As kids go from toddlers to teens, it can be hard to find the right way to celebrate a birthday! We think a trip to the AMNH Imax Movie Theater is just the ticket to give your not-quite-child, not-quite-teenager a party to remember!!
The newly renovated Samuel J. and Ethel LeFrak Theater features a forty-foot-high, sixty-six foot-wide screen and state of the art digital sound. Now playing at the Le Frak IMAX theater is Jean Michel Cousteau's Secret Ocean. Following the son of famed ocean pioneer Jacques Cousteau on a breathtaking tour of unusual ocean life, the film showcases footage from over three years of expeditions all around the world! (Click here) for a more detailed description of the film!
Take your favorite friends to the movies as part of a festive birthday party led by Linda Kaye's party staff. Starting in our party space, make your way to the IMAX theater for reserved seating, classy 3D glasses and underwater inspiration, followed by a visit to the Hall of Ocean Life on the way back to the Birthday Café for refreshments and celebration!
Imax Movie Magic Party Favors »
Pricing
$995 base price - includes 10 Children
$38 each additional child
$250 Custodial Fee
*For Cosmic Blast-off and Imax Movie Magic, there is an additional cost of show tickets. Tickets are $8.00 for children and $12.50 for adults.
Each Party Package Includes
a custom digital invitation to email to your guests
admission to the Museum (for party guests and their accompanying adults)
rental of the Birthday Cafe Space for the duration of the party
party coordinators, leaders and assistants
"Happy Birthday" paper goods for the Birthday Cafe (table covers, cake plates and napkins).*
Birthday Crown for birthday child
*theme specific paper goods are available at an additional charge
Deposit
The base price of your party is due immediately upon booking the party. American Express, MasterCard and Visa cards are accepted. The balance of the party is payable on the date of the party.
Booking
Parties are ONLY available for Members of the American Museum of Natural History at the Family level of $140.00 or above. Click here to get your membership.
Hours
Your party can be held on weekdays from 4:00 to 6:00 PM
and on weekends between the hours of:
10:00 AM to 12:00 PM,
1:00 PM to 3:00 PM,
4:00 PM to 6:00 PM.
Party Extras (additional cost)
theme related characters, entertainers, photographers and videographers.
custom designed birthday cake
themed and regular balloon decorations
themed paper goods
custom goody bags with item selections of your choice
Decorate-a-Cake: Pricing based on the number of children.includes an undecorated cake, frosting, pastry bags and tips, additional party helper, chef hat and apron for birthday child.
Decorate-a-Cookie: Pricing based on the number of children. Available for each theme.
Please Note: Delivery Charges are applied to Cake and Party Favors
Refreshments
Restaurant Associates is the official in-house caterer for the American Museum of Natural History. All food and drinks will be provided through their services.
Kosher options are available upon request.
You can see a food item list here.
Lastly, please note that an overtime fee of $100 will be charged to parties exceeding the scheduled party length.