Cosmic Blast-off Party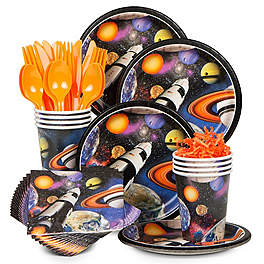 Birthday Child's Starring Role
Your child captains the spaceship in this cosmic adventure as head astronaut.
Party Settings
Create an atmosphere that's out of this world with glow-in-the-dark stars and planets. Use this great space wall mural or DIY it and cut rockets and moons out of tin foil and hang them on party room walls.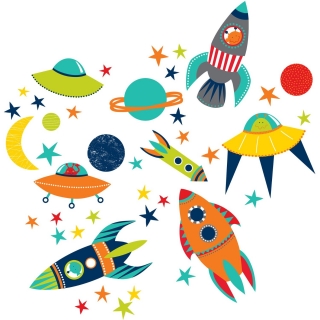 Dangle a Space Shuttle
and planet mobiles from the ceiling, or if you don't want to purchase a planet mobile, why not create one out of regular balloons that you can paint after inflated.
Party Fun & Games
Outer space might be almost ordinary if not for its extra-terrestrial residents. Invite party guests to create their own alien costumes out of everyday items turned extraordinary. Set up a workshop with materials such as pipe cleaners, goggles, empty boxes, etc. The guests will be entertained for hours and will all come out with unique creative creations.
Hand each guest a plain white paper plate and markers, and have them create their own planets. Then as a group create your very own solar system!
Take this time to teach children about the different planets. We like to read this Dr Seuss: There's No Place Like Space Book. It does a wonderful job at conveying the most important aspects of each planet to little ones.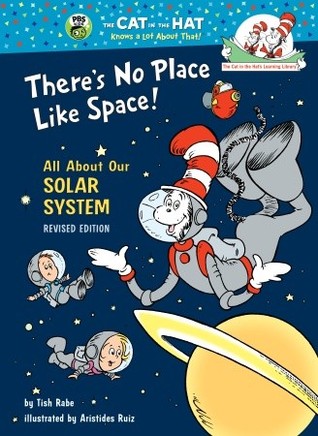 Party Entertainment

An inflatable moon walk will give your space cowboys a chance to practice navigating zero gravity. Rent one from an inflatable bouncy supplier and make sure an adult is always present and supervising the fun.
Party Tunes
Let your little moonwalkers rock out to an intergalactic mix of chart toppers and movie soundtracks like those from 2001 Space Odyssey, Star Trek, and Star Wars.
Party Refreshments
Visit the camping section of your local sporting goods store and pick-up as many different kinds of freeze-dried foods as you can find. Your young astronauts will love comparing the space-age taste of treats like astronaut ice cream to the earthly version. Do have the regular non-dried foods also since not many children are such adventurous eaters. Serve them little space themed sandwiches such as moons sandwiches and rocket skewers inside their very own insulated sandwich bag that doubles as a favor.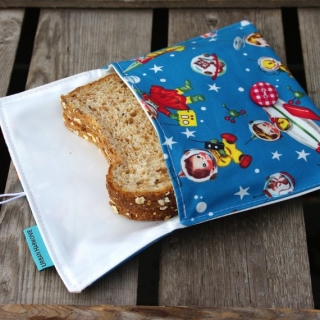 Lay out these cool Decorate Your Own Placemats that come in a robot space theme and let the kids play while they eat or wait for their food.

Space Shuttle Sipper Cup
Party Finale
Stage a countdown just like one of NASA's shuttle launches. Instead of engines flaring at 3-2-1 though, blast off with the lighting of the birthday cake candles.
Birthday Presents & Favors

Space Helmet
Send each space adventurer home with a package of glow-in-the-dark stars for his bedroom ceiling. This way, every night sleep will inspire a trip to another galaxy.
Add a few other items such as space stickers, pencils, bounce balls, etc.

Space Alien Favor Set

Color Your Own Spaceship
Party Extras:
We haven't forgotten the Star Wars fans out there. There is a lot of themed items that would make the space party more Star Wars-y. Just incorporate some more ideas from the movie such as calling the food table, the Cantina table. Play Star Wars Trivia and hand out light sabers as favors.

Star Wars Birthday Box


Star Wars Favor Set