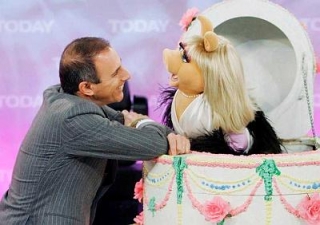 Our Pop out Cake is very popular among the adult crowd.
After making an appearance on national television to celebrate Matt Louer's 10th anniversary on the Show, people just can't get enough of it! Whether it's Miss Piggy or your grandmother popping out of the cake it's guaranteed to be a great laugh!
Cake Rental fee $495 for 24 hours
Delivery and Pick-up Charges $300 (NYC)
Dimensions: 4ft by 4 ft wide, with opening 19-21inches. Cake disassembles by layer, and middle layer can be substituted by real cake.