Dance Party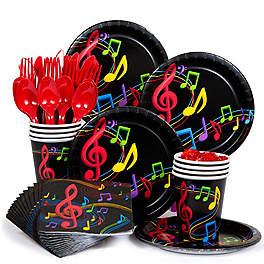 If your guest list is in the dancing 'field' then this is a great party to keep them entertained for hours, you just might have to be prepared for this party to go on for hours and hours!
Entertainment
A DJ or a band is a must for this party. DJs for the younger crowds are best because they are in tune with the latest hits and know what young people like. Speak to your entertainer before the party to discuss any style of songs you like, don't like and what he shouldn't play at a party (indecent lyrics or racial remarks for example.) Make sure you discuss with him how long he will be playing for and if there is any special requests for songs.
For the kids that are dance floor shy, hire a magician who will keep them just as entertained as the dancers.
If you don't want to hire an entertainer, have your child tell you which are their favorite songs and most danceable music and create a play list that continuously plays throughout the party.
Hand out a disco ball necklace or glow in the dark necklaces
to all guests upon their arrival.

Disco Ball Necklace
Menu
If guests are dancing for the entirety of the party then you want to keep the food on the light side. Room temperature finger foods are great because guests can just grab a few nibbles and get back to the dance floor and it can stay out all night. Have plenty of water and beverages available for those dehydrated guests.
Games and Activities
Since dancing is the main activity of this party, games that involve music work well. You can play Freeze, where the guests have to freeze when the music stops and then continue dancing when the music starts. The guests that freeze last get disqualified. Provide little prizes for the top winners.
If the kids like 'So You Think You can Dance' have a dance-off contest or a marathon dance contest, where the winners get a prize, and a huge bottle of water!
Decoration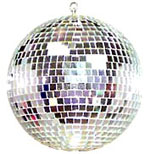 Disco balls and lights are fantastic for this party. Make sure the party room is dimly lit so that guests feel like they are in a disco and don't feel as self conscious with bright lights. Bring out those Christmas lights from the attic and put them to great use by decorating around the room.

Disco Ball Swirls and Shimmers

Music Note Stickers


Disco Party Music
Party Favors
A personalized CD with all the best music from the party is guaranteed to be a hit. It's a useful party favor that will make sure all those party memories stay with them whenever they listen to those songs.