Glamour/ Spa Party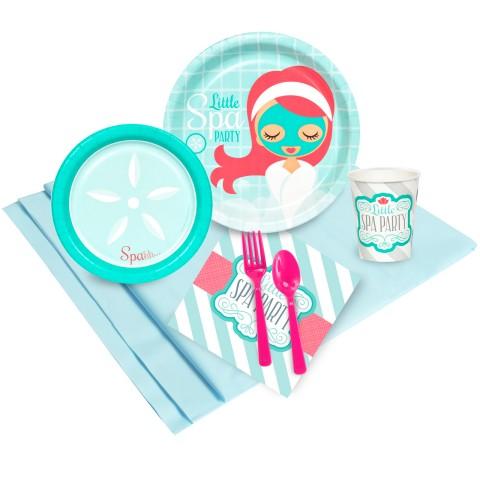 Little Spa Party - Party Packs
Birthday Child's Starring Role
There is nothing more fun than being the center of attention when you are a young girl. With a Glamour/ Spa party all the girls will get the attention and pampering they want.
Party Settings
There are many places to hold this party depending on your budget. Consider a beauty salon or spa if you are willing to splurge. Beauty schools are a lower cost option since it gives the students practice on real people.
If you want to host the party at your home, either have a professional or a beauty student come to the party or invite a friend or family member who is knowledgeable enough and can lead the girls through their pampering.
To turn your home into a spa: create a soothing, tranquil, intimate, meditative setting. You can accomplish this through the use of candles, dimmed lighting, or with a mini fountain.
Party Leader
Hire a beautician, manicurist to come to the party. Ask them to come with lots of energy, enthusiasm and a handful of beauty suggestions the guests can practice at home. Plan ahead of time on who will provide the products needed for the party and stock up on make- up removing wipes!
Party Fun & Games
This is a gathering of girls that want to relax and/or be transformed into magazine models. Whatever that means to them, help them make it happen. Some will enjoy facials, makeovers, manicures, etc. Provide small makeup and nail kits and let them experiment with colors.
For your own all in one kit for this party we found this great pack that includes almost everything you need for this party.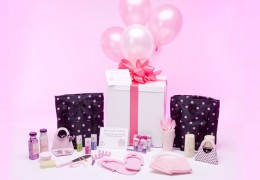 In order for a relaxing spa feel, invite another adult friend to help you and provide each of the girls a little 10 minute massage or mini facial. Wipe their faces with cleansers, cover them with warm towels and then moisturize their faces with a light moisturizer while massaging their face. Cater to the girls' needs by providing them with refreshing lemonade while they are undergoing their beauty treatments.
Party Tunes
Think peaceful. Beauty treatments are cleansing and relaxing. Pick music that savors every moment.
Party Refreshments
Have each guest create their own delicious, healthy, fruit smoothie. Set out a fruit buffet with strawberries, bananas, blueberries, oranges, peaches and kiwis and allow guests to choose which fruit they want for their smoothie by putting it into a bowl. Make sure an adult is present to operate the blender.
Have bowls of yogurt and granola so that guests can also customize their own parfait along with the smoothie.
Set out a salad bar station where guests can choose which toppings to put over their leafy greens.
Party Finale
This is the moment they've been waiting for, an authentic photo shoot! Maybe you know a photographer or someone who would have fun playing the part. Set up a magazine cover background to add a little more glamour, and shoot away!
Birthday Presents & Favors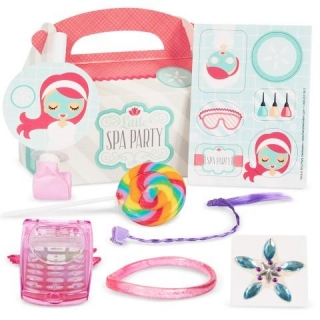 Little Spa Party - Party Favor Box
Pass out cosmetic totes,lip gloss, nail polish, or these personalized lotions so the guests can continue to glamour it up at home.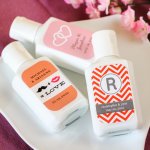 Personalized Hand Lotion
It's also a good idea to include make-up removing wipes so the guests can easily clean their faces that night after the party. If you want to go all out, you can hand out this bath robe setthat guests can also wear during the party and take home as a favor.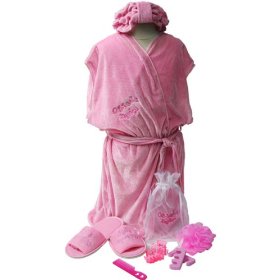 Personalized Birthday Cookies


Custom Fortune Cookies


Birthday Cake Cookies