Jewelry Making Party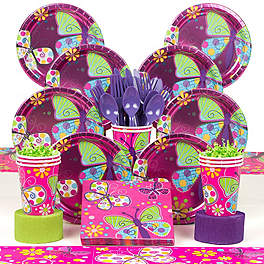 Birthday Child's Starring Role
Your child shines as the gem expert at this glittering affair.
Party Settings
Create a scene of sparkle and shine with luminescent balloons, or any jewel toned balloons. Use confetti on the table for an extra sparkle.
Party Fun & Games
Little hands will be eager to start stringing their own gorgeous pieces of jewelry. Buy a large assortment of different colored and shaped beads. Make sure to have plenty of sting and locks for the ends of the jewelry. You can find everything you need at a crafts store so spend some time looking through all the options. If your child has a particular style of jewelry she likes to make, try to gear the jewelry making party towards that.
Party Leader
Invite a guest from your local craft store to introduce the materials your guests will be working with. Or enlist the help of a favorite adult friend to guide guests. You may need an extra pair of hands when it comes to tying the ends and snipping off excess string.
Party Tunes
Let your child choose her favorite music to set a mood of industry and excitement. Don't forget standards such as "Diamonds are a Girl's Best Friend", "Lucy in the Sky with Diamonds", and "Ruby Tuesday".
Party Finale
Harry Winston might advertise his wares on actresses at Hollywood shindigs like the Oscars and the Emmy Awards, but give your artists the chance to model their own originals on a birthday catwalk. Catch your guests' best poses and struts with a camera, just like at a fashion show. If you can, play the photos in a slide show form to all the guests as they are eating their meal. Expect a lot of giggles!
Birthday Presents & Favors
Guests will love wearing their handiwork home. Make these souvenirs extra special by handing out drawstring bags or mini jewelry boxes in which children can store their treasures.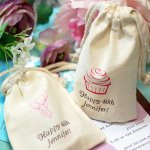 Personalized Natural Cotton Birthday Favor Bag
Party Tips
Make sure to choose a project that allows ample time for partygoers to finish before the fashion show. A variety of bead shapes and colors will bring an amazing contrast between all guests' final products.