Baby Shower

Giraffe Baby Shower Deluxe Party Pack
Party Settings
There is so much you can do to throw a fabulous party for a pregnant mother and her expected baby. Here are some ideas for decorating the venue.

Teddy Bear Centerpieces for the tables and maybe a mini personalized teddy bear as a party favor. You can personalize the teddy with the Baby's name, the shower date, or just with a 'Thank You'
Have a few jars or containers with pastel colored candies that the guests can eat during the party as well as take home as a favor. Just don't forget to provide cellophane bags to take home.

Collage of baby pictures of parents-to-be. This will entertain guests and have them guess which features will be more pronounced on your baby.
Add lots of color to the room. Streamers and balloons in pastel colors or if sex of baby is known, pink and white balloons or blue and white balloons. You can also have the tables match the color scheme or go for our Giraffe Party Pack featured above.
Party Fun & Games
The party will involve a lot of talking about the mother-to-be but have a few games and activities up your sleeve for when the mother wants to hand over the attention.

Guess the number of jellybeans in the Baby Bottle. This can even be done at the start of the party when your guests are arriving. Hand out the prize towards the end of the party.
True/False Questions about mother-to-be (Best if grandmother to be does this). You can go as far as doing it for both parents if the grandparents can help out.
Baby Guest Photos: Match each guest to their baby photo. Scatter the photos around face up and write the guest's name on the back of the photo. You'll spend a full hour just laughing and talking about these photos.
Baby BINGO: BINGO with baby words or items instead of numbers. For example: diapers, baby monitor, bibs, etc…
Advice Jar: Have guests write on a note card one piece of advice to give to the mother and her baby-to-be. If guests don't have children of their own, have them write something fun and humorous that will make her smile when she is having a stressful time with the newborn.
Party Menu
A baby shower is essentially a party for the mother, not just the baby, so have the mother-to-be's favorite foods so she can enjoy herself at the party. Light finger foods and refreshing fruits are great. Try vegetable trays with exciting dips.
If you want to match cupcakes to the sweet pea party pack, use these green polkadot cupcake liners to make the colors even that more uniform.
Be considerate of the pregnant mother who can't consume alcohol. Serve refreshing smoothies and teas instead of alcoholic beverages.
Birthday Presents & Favors
Scented Candles with a signature scent of the party. Have some of these candles at the party too so the guests can associate them with your party. White Musk is always a relaxing and warming pure smell.
Mini Baby Bottles filled with candy and Personalized Candy Bars also keep on satisfying after the party is over.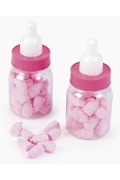 Be really creative and let the guests in on the 'blooming' fun by handing them these blooming favors . They plant the paper that is already embedded with seeds and within weeks they will also have a brand new flower to care for.

Personalized Plantable Seed Card Baby Shower Favor


BloemBox Tiny Tins Plantable Seed Favors

Whole Leaf Tea Sachet Favors

Personalized Natural Cotton Baby Shower Favor Bag

Custom Baby Shower Cookies


Custom Designer Baby Shower Cookies

Pink Teddy Bear Cupcake Candle
Free Printables: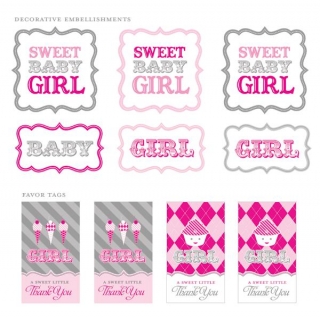 Sweet Decorative Labels
Place Cards
Napkin Rings
Cupcake Toppers
Favor Tags
Party Extras:
Try a few other themed goods for your party!