Oscar Party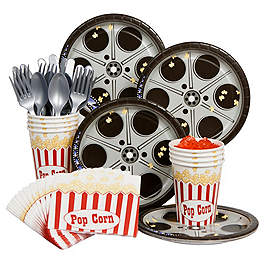 The Oscars don't have to come only once a year! This is a timeless party that happens every year in many households, but turning it into a birthday party can be just as fun as watching it on a television.
Entertainment
A comedian impersonating famous people can always be entertaining, especially for an adult audience. They can give your guests a great laugh and in a much more intimate setting than if they were at a comedy club. Talk to your comedian before the party and have him incorporate a couple of funny and harmless jokes about the guests in the audience.
Or how about a Celebrity Murder Mystery game? This kit includes everything you need to throw the most scandalous murder Mystery Party.
Menu
Celebrity food is a given in this party setting. Opt for lots of finger food as opposed to a full sit down meal. This will allow the guests to mingle as celebrities do, and have lots of champagne and wine on hand. You want your guests to feel like they are at an Oscar after party.
Games and Activities
Have fun with your guests by asking them to come dressed up as a famous movie character and then cast an anonymous ballot for the best costumed person. At the end of the party have the person with the most votes win the Oscar award and give a very funny speech in honor of the birthday guest.

Award Statue
Award winning movie charades are a fun and inexpensive way to have the guests entertain themselves during the party. Make sure to take lots of paparazzi photos!
Decoration
Royal red, gold and silver should be your colors of choice. A red carpet on your entryway will make a great first impression. We love the Hollywood Party Pack
featured above for this party. Very chic and will make your guests feel star struck. Add in this Paparazzi Mob Prop right by the door for some extra giggles.
Mingle with the stars with Hollywood icon cut outs.

Humphrey Bogart Cutout


Marilyn Monroe Cutout
Click here for more STANDUPS! There is a large selection of photo-realistic life-size cutouts of all your favorite personalities.
Party Favors
Give your guests copies of the photos you took during the party. They are a great keepsake and quite a laugh.
Or how about these adorable cookies? They will make your guests feel as famous as the stars!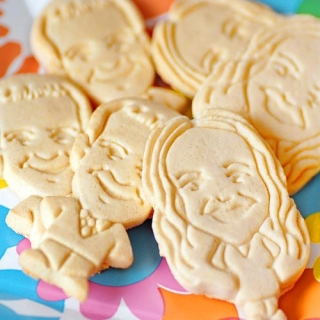 Customized Cartoon Cookies
If you want more Hollywood Props for your party, take a look here for everything Hollywood.