Drum Cafe Community Building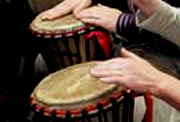 An interactive way to make your event unforgettable! A program, in which everyone gets a drum, builds teams, unites companies, and motivates staff.
Drumming is a universal expression that transcends all boundaries: personal, organizational or cultural.
Drum Cafe teaches staff to increase productivity and efficiency through better team work and interactive team building.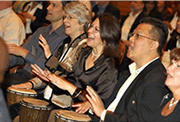 Our leadership program has been designed by global Motivation Speakers, HR Consultants, Company CEOs, Leading Musicians and Academic professors.
The team building program is designed to:
Break down barriers to create a more open organization.
Align to a common goal, mission or vision.
Improve Communications through accurate feedback.
Accelerate Productivity by motivating staff and getting them to listen to each other.