Cupcake & Baking Mixes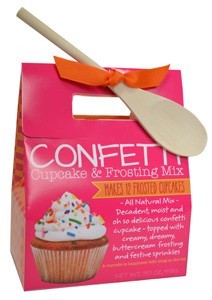 Classic baking made easy and totally delicious. YUM! Packed in a charming paper tote with accessories.
$ Click for specific pricing
Confetti Cupcakes (pictured above)
$12.99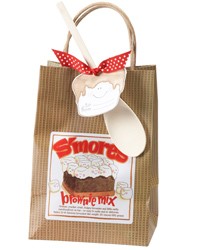 S'mores Brownie Mix
Graham cracker crumb crust mix, incredible Brownie Mix made with imported semi-seet chocolate chips, and mini marshmallows to melt on top. Everyone will scream for S'more. Could be the new favorite.
Packed in a green tote with great label and ribbon tied wooden spoon.
$12.99
Also Available Monkey Bread Mix and Red Velvet Cupcakes $12.99