Tangled/ Rapunzel Party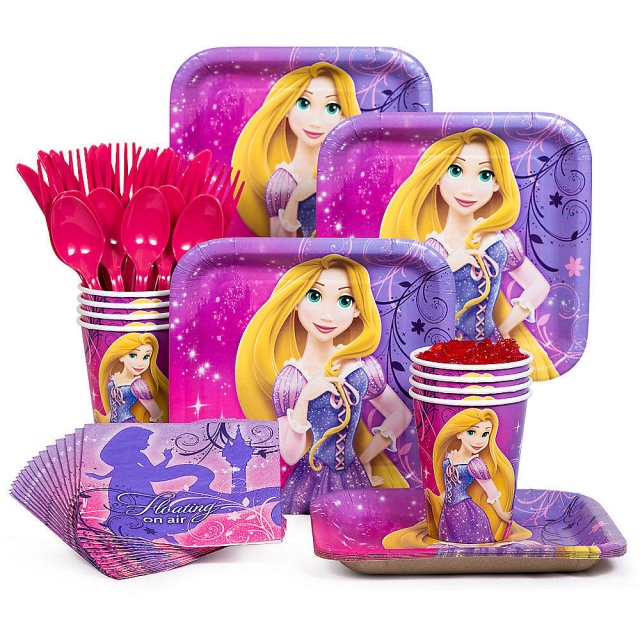 Disney's Tangled Deluxe Birthday Box
Birthday Child's Starring Role
If your child likes Tangled this much to do a birthday party theme around it then she probably would like to dress up as Rapunzel. Let her wear the costume if she so chooses and crown
her princess for the day.

Tangled - Rapunzel Deluxe Toddler / Child Costume
Party Settings
Ideally, if you could take your party outside, it would be more appropriate for movie purposes, but an indoor area will work just a well.
Hang paper lanterns up high so that they can be the floating lights.
Use a few rolls of yellow yarn to make Rapunzel's long hair and have it hanging around the party area (from trees and bushes or from ceilings and banisters).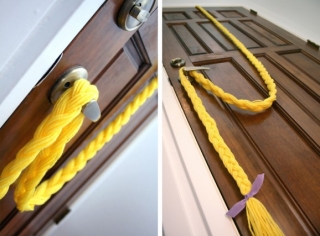 If you are indoors you can use theseDisney Tangled Removable Wall Decorations.
If your party is outdoors then use thisDisney Tangled Standup.
Party Leader
A Rapunzel Costumed Character would be ideal for this party. They could tell the children the Tangled Story, play games with them and lead all the fun craft activities. Little ones will truly be mesmerized by being in the presence of a Princess.
Party Fun & Games
Invite your guests to come dressed up if they like as the princess of their choice. Have Rapunzel Wigs
braided and ready to hand out to each child when they arrive. Have a hair dressing station at your party with ribbons, flowers and other jewels so the guests can embellish their long braids just like Rapunzel does in the movie.
Tangled - Rapunzel Wig (Child)
Set up a Floating Lights craft table where kids can decorate their own paper lanterns. Provide paints or markers and an assortment of stickers. When the kids are finished, hand the lanterns up or save them so that they can take it home.
Play smack the Frying pan on Flynn. Download this wanted poster of Flynn and enlarge it so Flynn's face looks life size. Cut out little pieces of card stock in the shape of frying pans and place some sticky tape on the back. Play the game as if you were playing Pin the Tail on the Donkey, blindfold the children, spin them around three times, and see who gets their frying pan the closest to Flynn's face!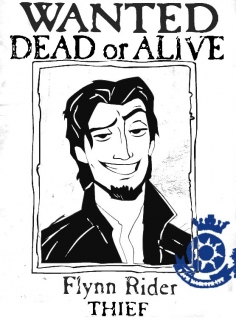 You can also use this poster as a coloring activity.
Party Menu
Set up a beautiful banquet table with the themed paper goods above and let each child have their own Activity mat to keep them entertained before the food arrives.


Enchanted Tower Personalized Activity Mats
Serve braided bread sticks, tangled spaghetti, maybe a braided pizza loaf even. Stack cupcakes up high with a wooden skewer through the center and an inverted sugar cone on top to resemble Rapunzel's tower.

These cute Tangled themed cookies are a great addition to your menu and the kids will love eating them too!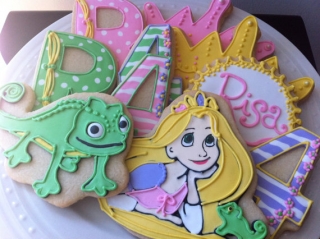 Party Favors
To tame Rapunzel's hair we need a brush, so why not send off all your little guests with a hair brush of their own. Buy a few hairbrushes at a local store and adorn them with a few Rhine stones and jewels. Your guests will love going home with them and singing while they brush their hair every night.
Here are a few other items that we like.
Disney Tangled Party Favor Box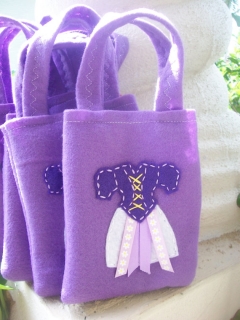 Personalized Pink Princess Crown Rice Krispy Treat