Angry Birds Party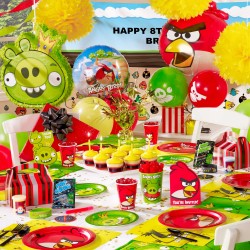 Angry Birds Ultimate Party Pack
Long gone are the days where birthday party themes were all based on popular movie characters; now, even video game characters are making an appearance as some of the most popular children's party themes. Angry Birds is an ever popular theme not just among kids but adults too. Here is how you can create a fun themed party based on that bird-tossing game that we are all hooked on.
Party Settings
Angry Birds involves a lot of tossing things up into the air so if you can get an outdoor space or a room that's large enough, that is ideal, if not, any room will do, you will just have to scale down on the sling shot.
Create a life size tower from the game using empty cardboard boxes, empty cartons, milk cartons, anything that is either a square or a rectangle will work. Stack them into fun shapes and place a green balloon with a themed face on it.
You can download face templates here and use them to decorate balloons.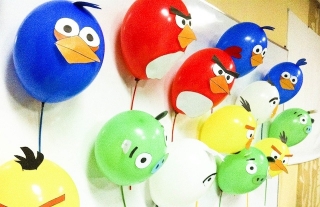 Place lots of Angry Bird balloons around the room. Place them on red, yellow and blue beach or soft balls so the kids can throw those around too.
Party Fun & Games
Use the life size tower mentioned above to create a life-size game. Instead of a slingshot have guests throw beach balls or soft balls at the tower in the attempt to knock down the green pigs. If the pigs touch the ground the child gets the points. Arrange different levels of difficulty by using some heavier boxes and odd shaped ones too. The game is all about balance and strategy! Make up fun rules where if their ball is yellow they have to throw it with an under throw or with a kick, if their ball is red they have to throw it from above their head, and if the ball is blue then they have to throw three balls at once!
If the kids are a little older, split them up into two teams, have each team create their own tower for the opposing team to destroy. This way you have a friendly competition and more creativity with the tower stacks. Give the winning team a prize such as angry birds t-shirts or other toys.
If your party space is limited you can always scale it down and use small cookie and cereal boxes on top of a table and set up the game the same way as for the life size game.
For little guests or those not interested in throwing balls, set up a hands on activity: have an assortment of cookies and crackers to represent the box structures, and donut holes or another round treat to represent the green pigs, and have the kids create the tallest standing structure. Tell them they can make it as wide as they want and as tall as they want but they have to be able to place 7 little green pigs within the structure! (you can change the number required based on age, little ones will be lucky if they get 4!)
Party Menu
If your guests have been tossing birds up in the air for the entire party, they will be hungry and very happy to get more than birdseed in their bellies! Think of fun food like mini sliders that sort of look like angry birds. Especially if you give them eyes made out of olives.
Or maybe some angry bird pizza. Use toppings in the colors of the different birds to decorate a pizza.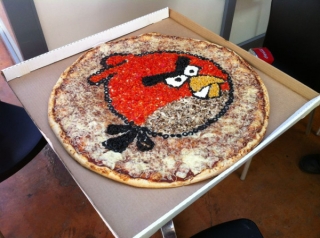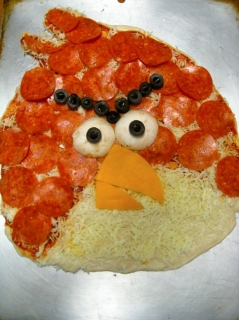 Make a fun food display by using boxes stacked up high with the food on different levels, just don't know these ones down!
Get some Angry Birds Candy and place on the table for those who want a sweet nibble.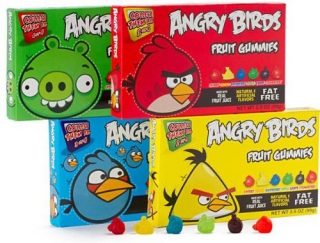 Stick these fun cake popsaround the table or save them for the favor bag.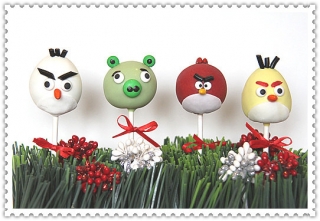 And what guest won't want a bite out of these delicious cookies?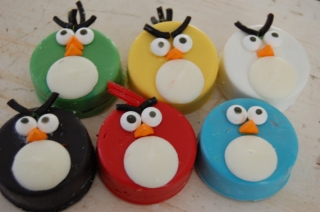 Party Favors
Don't send your Angry Bird Gamers home empty handed or they just might turn into little Angry Guests! Get them a goodie bag with all things Angry Birds. For example:

Angry Birds Favor Set



Angry Birds Plush Backpack Clip

Angry Birds Tattoos
For those of you who just want a pre-made ensemble, this party kit includes 6 different types of Angry Birds theme favors, with enough to fill 8 separate loot bags: 8 Plastic Maze Puzzles, 8 Flying Discs, 8 Whirl-a-copters, 8 Wooly Balls, 8 Prism Viewers