Star Wars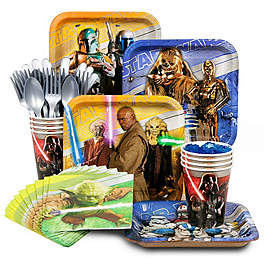 Child's Starring Role
If your child would like to dress up for this party it would make it that much more fun. He can be a Jedi in training, soon to be a Jedi master. If your child likes the idea, how about all his friends come dressed up?
Party Setting
Any wide open space will work well for this party. If you have a planetarium near you and would like to book the space (for older children 7+) that would be superb, but not at all necessary.
Dress the room with rich fabrics, silver tinsel, glow sticks to mimic light sabers, maybe some glow in the dark stars? Be as creative as you like. If your child has Star Wars toys, use them around the room too. For example, this candy stand is perfect for serving up some snacks for hungry Jedi.

Use silver and black paper lanterns hanging around the room for a death star effect.
Entertainment
Hire a Jedi costumed character (or ask a favor of a good friend) to come and teach your guests how to become Jedi masters. Have them do obstacle courses, teach them a few light saber moves, anything that will get them excited and into it!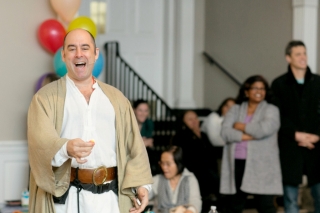 If you have a large enough space you can have a bouncy obstacle course for those Jedi Masters to get a good work out. If you can't then set up some chairs, tubes, hula hoops, anything goes!
Have your guests create their own trading cards. They can have a keepsake of this super fun party and if you have two sets printed, your child can have their own trading card set of all their friends who attended his party.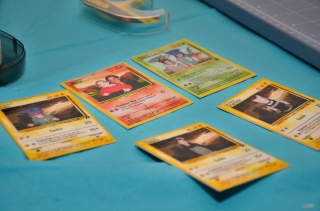 Party Menu
Try to think of Star Wars themed food items for your hungry Jedi. They will be hungry after all that physical activity.
Yoda Soda to quench their thirst.
Light saber sticks- pretzels coated with a dip or candy melts on one end.
Death Star meatballs
Wookie cookies
Whatever food items you can think up of, try to add a little Star Wars spin. And custom labels go a long way in terms of presentation.
Party Favors
There is a tremendous amount of Star Wars goodies out there so find some that are age appropriate for your crowd. Coloring books and some mini or inflatable light sabers might work for little ones. Maybe some Darth Vader masks and a light saber for some older kids.


Custom cookies are also a great option if you have a wide range of ages at your party.