Teenage Mutant Ninja Turtles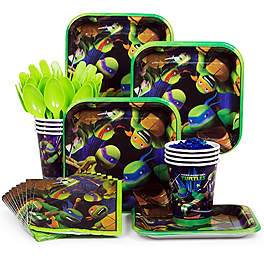 Teenage Mutant Ninja Turtles Party Packs
Remember when you used to watch The Teenage Mutant Ninja Turtles in your pajamas every Sunday morning? Well, the TMNT have made a comeback with a new movie so now your little ones will get just as excited as you did. If your little Ninja has an upcoming birthday party, throwing a TMNT birthday party is a great way to celebrate with a classic- you might even get the grown ups excited.
Party Settings
Add to your TMNT themed party supplies with some pops of solid color such as blue, red or green. For a fun way to decorate the party table, you can use a TMNT table decorating kit. Make the birthday boy feel extra special by adding a Teenage Mutant Ninja Turtles Foil Balloon to his chair. Use the 4 turtles main colors when picking out any room decoration such as balloons, streamers, etc...
Party Activities
Give each party guest a ninja mask upon arrival. You can easily create the masks using colored construction paper and elastic. Just cutout eyeholes in the construction paper and staple or tape the elastic to the construction paper.
To keep older guests entertained, you can go the classic party route with a Teenage Mutant Ninja Turtle Pinata that's full of fun little party favors and candy. Make sure the kids stand far back as each Ninja guest tries some cool moves on the pinata.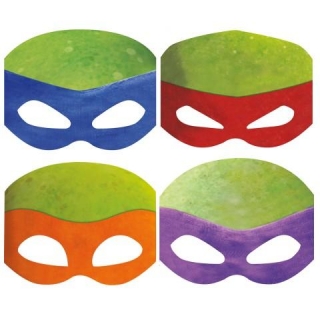 Hire a martial arts teacher (Master Splinter) to give the guests a mini class on how to become ninjas. Kids will love showing off their skills. Give them a headband of the different Ninja Turtle colors so they can act out their character.
Party Menu
Fill up TMNT themed cups or regular clear plastic cups with ice and green Gatorade. The neon green color of the Gatorade will match the party theme. Serve your little party guests a Teenage Mutant Ninja Turtle sandwich. Use a turtle cookie cutter to cut out shapes for sandwiches. And don't forget the pizza, this is one party where cheesy pizza is an absolute must!
For older kids, why not set up a make your own pizza station? Buy store bought pizza dough and put out some toppings. Kids will love eating their own creations!
Make green jello for dessert along with some Ninja turtle cookies.
Party Favors
Your crime fighting Ninjas will probably be thirsty after all the fun and excitement of the party. Why not send them home with these TMNT water bottles that they can use all the time?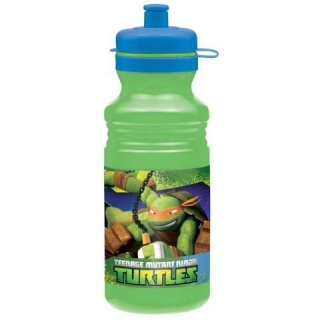 Teenage Mutant Ninja Turtles Sports Bottle
If you want a great favor without too much hassle, here is a great kit that contains some fun toys for your guests.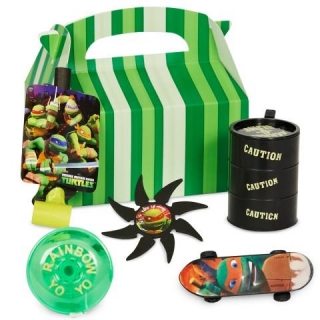 Nickelodeon Teenage Mutant Ninja Turtles Party Favor Box
This lunchbox tin is a great favor that your guests can use for their lunches. You can choose to add some other favors to it or keep it simple with the tin.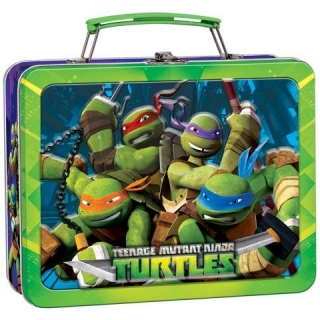 Teenage Mutant Ninja Turtles Tin Box Carry All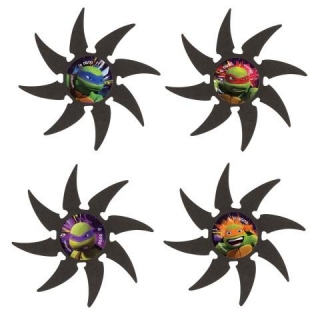 Nickelodeon Teenage Mutant Ninja Turtles Foam Stars