Barnyard Party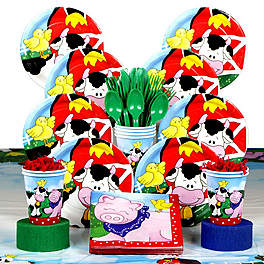 Farm Animals Party Birthday Box
Times may be changing and evolving but there are still a lot of barns out there! The Barnyard party is not only entertaining for toddlers, but also allows them to learn about different animals and reinforces what they learn in kindergarten.
Send out a fabulous personalized invitation to start out the fun.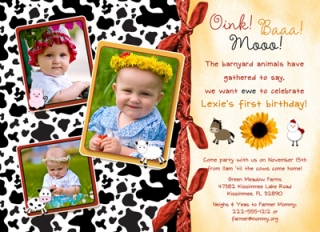 Birthday Child's Starring Role
As Dr. Dolittle, your child can host the party decked out in a white doctor's coat complete with a stethoscope.
Party Entertainment
Find someone who knows the facts about animals and ask them to lead your party. Whether it's an animal trainer, a veterinarian or a farm hand, take advantage of their expertise.
If a petting zoo is too much to bring to your party, how about a balloon version? A balloon artist can replicate barnyard animals for your child's party .
A singer that can teach the toddlers new songs and get them to sing along with him is great fun and children will feel a great sense of accomplishment.
Party Menu
Have fun with the foods you choose, relate them to the theme of the party. Milk should certainly be on the menu since it comes from cows and is healthy for them. How about scrambled eggs and chicken fingers? And pigs in a blanket for adults. Buy rice krispie treats, unwrap them and pile them on a plate and call them hay stacks. You can also make sandwiches more festive with the help of animal-shaped cookie cutters.
Party Games and Activities
Play guess the animal game by doing an animal noise and have the toddler's guess the animal.
Teach them the Old McDonald song and watch them sing it for hours.
Party Tunes
Take your child on an outing to your local library or music store prior to their special day and look for classics like "Old McDonald", "Dr. Dolittle's Talk to the Animals", "The Lion Sleeps Tonight" and any animal-themes tunes to set the mood for the day
Party Decoration
Create a barn inside your party room. Start with the Barnyard Kit (above) that has all the basics you need for your table. Use streamers and cowhide balloons to add color at different heights of the room.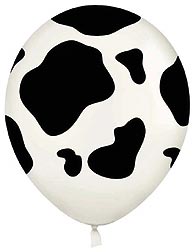 Use baskets with apples as part of the centerpiece. Use old fashioned shatterproof bottles to serve milk in. And use bandanas as placemats.
Party Favors
Buy favors that are toddler safe and won't cause any choking hazard. We love this barn full of mini animals. It can serve as a table centerpiece and then as a favor for guests to take home after the party.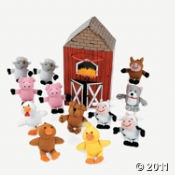 Or if you want the full kit here is a favor combo that is sure to score big with your guests.

Farm Animals Ultimate Favor Set
Party Extras:

Farm Animals Party Game

Farm Animals Deluxe Box

Personalized Doggy Bone Mint Tin