Cinderella Party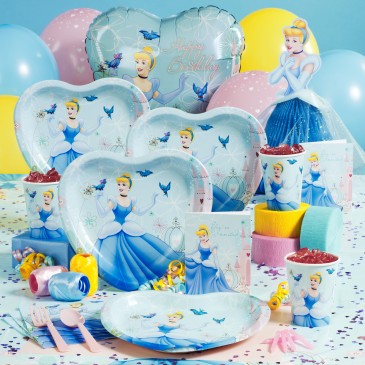 Cinderella Dreamland Deluxe Party Pack
Birthday Child's Starring Role
Dressed as Cinderella or simply with a Jewel Tiara on her head, your child will be ready for her royal birthday ball.
Party Settings
Decorate your home with pumpkins and plush mice to represent Cinderella's magical carriage and her faithful mice friends. Then use Disney Cinderella Giant Peel and Stick Wall Decals
around the room; the partygoers will be waltzing in no time with that "fairytale feeling."
Party Fun & Games
Have the main activity of the day be a magnificent reenactment of the famous fairy tale Cinderella. Each guest represents a character, with your child having first choice, of course. Guide the children through the fairytale story and have them end their story in a magnificent banquet hall, filled with delectable party treats and birthday cake.
Party Leader
Recruit an entertainer of all trades for this gathering. We suggest someone who sings, dances and is an energetic storyteller.
Party Tunes
Select music that will complement your actors. We suggest the Cinderella soundtrack and a variety of waltz music.
Party Finale
For the grand finale, set the partygoers out on a hunt for the glass slipper. When found, have everyone climb into an imaginary (or real, if you can manage it) pumpkin carriage. Set off for a cake and ice cream celebration, or why not both with these adorable Ice Cream Cake Pops?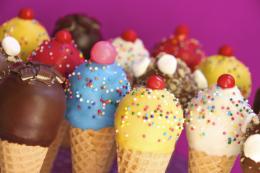 Birthday Presents & Favors
Double your place settings as party favors. With a Cinderella Wand
and a Cinderella Tiara
, your partygoers will be set for hours of fun.
Wrap your chairs in a colorful tulle fabric bow to make the guests feel like they are in a real banquet hall. Use glass slippers filled with candy around the table to create a magical look.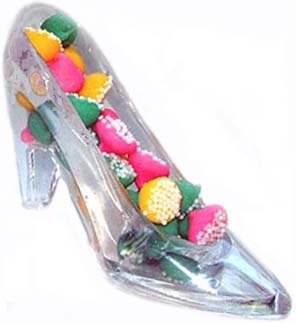 Decorate Your Own Princess Party Favor

Decorate Your Own Princess Tiara Party Favor

Decorate Your Own Princess Wand Party Favor

Decorate Your Own Princess Paper Dolls