Fairy Party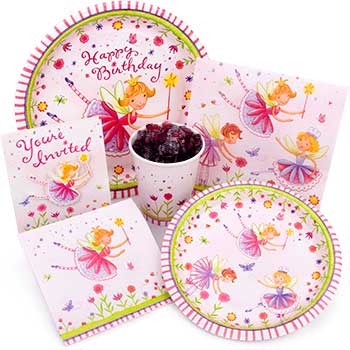 At some point or another, your little girl might become obsessed with the enchanted little fairies and want to dress up like one, act like one, and celebrate like one.
Party Settings
Choose an enchanting location for your party. An outdoor area, a back yard or garden work very nicely. If you are restricted to the indoors, you can easily transform your living room into an enchanted magical forest. Use pastel colored tulle fabrics to drape your living room walls. Ruffle them and attach them high on the wall to give the illusion of a tree.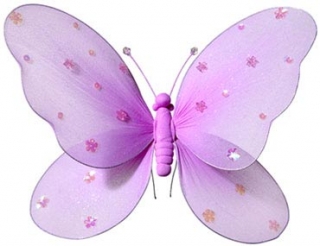 Attach fairy and butterfly wings to walls or hang them from the ceiling at different heights, use this butterfly mobile to make it super easy. Use large paper flowers and poms to make your little ones feel even more fairy like.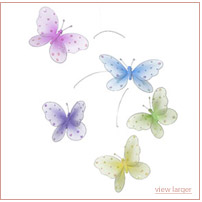 If you don't mind the messy clean up. Use glitter on all party decorations, especially on the food table. It will add that extra magical sparkle and the guests will love it.
Use gray construction paper or fabric to create stepping stones leading from the entrance of the party to the main party room/area.
Party Fun & Games
Your guests will want to fly around like little fairies so why not give the guests a pair of wings and a fairy wand as they arrive?
If you want to make the wands part of the party, set up a little station with wooden rods, bright colorful ribbons and fake jewels so that your fairies can personalize their wand however they like. Once they are all equipped, lead the guests through a magical scavenger hunt where they find a beautiful fairy treasure at the end.
Have each fairy decide what she would like to be a fairy of, there are many options: flower fairy, fruit fairy, light fairy, woodland fairy, and then do a mini coronation ceremony where each fairy gets their special fairy badge or flower crown.
Party Entertainment
Hire a dancer to teach your fairies how to move and dance as gracefully as enchanted fairies. Have the entertainer dress as a fairy herself and help lead the children in the scavenger hunt.
You can also hire a face painter to paint all of your fairies' faces and make them look more magical.

Color Your Own Princess Castle during the party and have that be a gift for the birthday girl, a work of art created by all her friends!
Party Menu
Fairies eat very pure and natural foods so treat your little fairies to some fresh berries, granola (no nuts), yogurt, mini sandwiches, mini meringues, and mini cupcakes. Display a cupcake for each of your fairies on these sweet cupcake stands.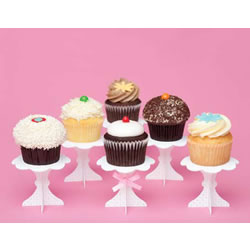 Add an extra sweet tooth with rock candy of different colors. They look like magical rocks but taste much better!
Hang a canopy over your food table to make it more exciting.
Party Tunes
Relaxing and magical tunes such as spa music and water sounds are perfect for creating this magical atmosphere.
Party Favors
Your fairy will need some fairy dust to keep the magic going long after the party is over, pack a little favor back with this magical fairy dust.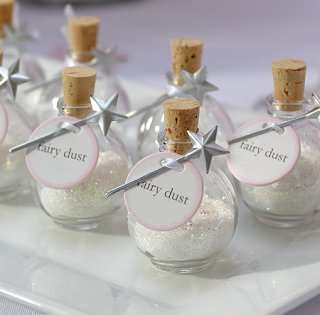 Allow the guests to take their fairy wings and wands home as favors. They will truly love to stay in character for as long as possible!

Fairytale Princess Deluxe Favor Set

Personalized Natural Cotton Birthday Favor Bag

Decorate Your Own Princess Wand Party Favor


Decorate Your Own Butterfly Chest Party Favor


Butterfly Shaped Favor Boxes
Party Extras: