Racecar Party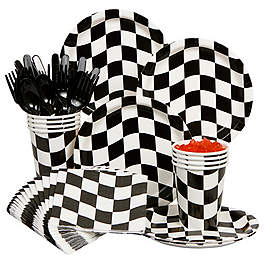 Birthday Child's Starring Role
On this special day, the birthday child should get to be their favorite race car driver wearing their car number. Then as the guests arrive, the birthday child can give out large numbers printed on sticker paper to the guests to wear on their shirts, and these super cool race helmets.

Racing Helmet
Party Settings
Check with your local race track, some will actually host birthday parties!! Another option is to have the party at a Go-cart location that offers party packages or have the party right at your own home!!
Party Fun & Games
Ready, Set, Go!! Start off by giving each child their very own Driver's License. Use Polaroid cameras that take the miniature adhesive pictures and stick each child's picture onto a pre-made card with their name, age etc.
Have an assortment of treats and candies so that guests can build their own food racecar. Use round cookies as wheels, longer cookies as the body of the car. Have a contest at the end with different categories such as, coolest looking, movable, most original, largest, smallest, etc...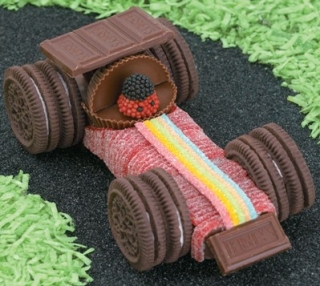 Have a pullback car race. Have an assortment of pullback cars and allow each guest to select their favorite, then create a track on a leveled surface and have the guests race their cars to the finish line.
Finish off with some wheelbarrow racing or another physical activity to get your riders hungry for their well deserved meal!
Party Leader
Enlist an actual race car driver to attend your party dressed in full race gear. If you don't know anyone who races cars, just go down to your local race track and leave word. Many drivers will be happy to attend your party and share their exciting experiences.
Party Tunes
Fun energetic music will help rev things up!
Party Refreshments
A racecar party definitely calls for 'Fast Food'…hot dogs, hamburgers, fries! And don't forget the car themed food item decorations.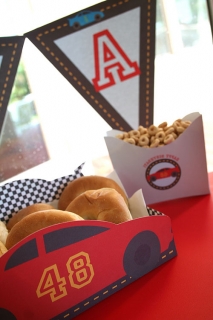 This table centerpiece can also be very mesmerizing for little guests as they are gobbling up their 'fast food'.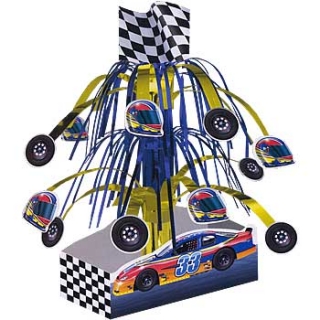 Birthday Presents & Favors
Whistles, Toy Cars, Toy Trophies, anything with wheels! (Yes even a box of cheerios or Oreos - they are round aren't they?) Here are some of our favorites!

Decorate Your Own Race Car Party Favor

Race Car Pencil

Race Cars Deluxe Favor Set

Cars Too Personalized Luggage Tag

Sports Bottle with Straw - Race Car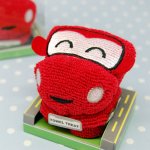 Cartoon Car Towel Favor

Disney Cars Party Birthday Box

Car Carrier Truck & Cars Wooden Toy Set