Puppy Party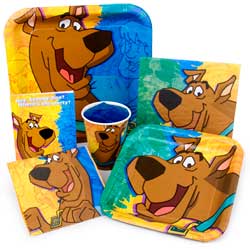 Whether your birthday child is loving Scooby Doo on the tv screen or obsessed with his pooch at home, puppy parties are great for any dog lover. Give your party a canine feel with our easy party tips.
Party Settings
Invite the whole gang to be a 'meddling kid' at your child's Scooby-Doo Party, or have them all pick their favorite type of dog from a group of images that you hang around the party space. If you want a scooby Doo party, decorate your home with brown and black balloons and streamers. Hang blown up pictures of Scooby-Doo characters, monsters and ghosts on the walls. Hand out doggy ears or dog ear hats to all the guests so they can feel more K9 for the day.
Party Fun & Games
Shaggy Says (Simon Says)
Pin the tail on the puppy
Musical Monsters (Musical Chairs)
Name that dog (show pictures of different breeds and have the members of two different teams battle out for the dog knowledge award)
Play Scooby-Doo, Where are you? (Hide little stuffed animals or pictures of Scooby-Doo and let the children have a scavenger hunt to find them)
Feed the puppy (variation of bean bag toss)
A Clue from Scooby-Doo: Play a mystery gamewhere the clues will lead you to a special prize.

Scooby Doo Scavenger Hunt Game
Play dog charades where the kids have to act out words but can only bark and act like dogs.
Party Leader
A costumed character is a great add-on to this party. It's like being at Disneyland with the costumed characters, but without the long lines! Talk to the entertainer about possible activities he can do with the kids or stories he can tell.
You can also hire a couple of trained dogs to show up at your party. Children love animals and being able to play with them. Just make sure the children are old enough and that none of them are frightened of dogs.
Party Menu
Scooby snacks are not just for dogs! Make your child's favorite cookie in the shape of a dog bone, using a bone cookie cutter.

Dog Bone Cookie Cutter


K9 Candy
Serve foods inside large dog bowls. Serve popcorn and call it kibble.
Get creative with the names of your foods. Instead of having children sit at a table, let them sit on the floor on large dog cushions. Place paw prints leading your guests from the entrance of your house to the party area. With a sharpie, write down each child's name on a dog bone and use it as their place marker. You can also use the bones as food labels to indicate what each item on the table is.
Birthday Presents & Favors
Short of sending kids home with a real puppy, chances are any dog themed toys, books, stuffed animals will be great favors, especially when they are little.


Plush Dog Toy


Scooby Doo Favor Set

Scooby Doo Favor Boxes