Thomas the Tank Engine Party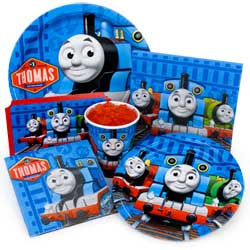 Birthday Child's Starring Role
Equipped with a conductor's hat and a pair of pin-striped overalls, consider your child prepared to drive this party train in style.

Party Settings
Convert a room or hallway in your home into an authentic choo-choo train with moving boxes linked together. Use one box per passenger (guest). If you know in advance who will be attending, write their name in big bubble letters on the side of their "cars". Also use wall stick-ons to create the illusion of trains at a distance.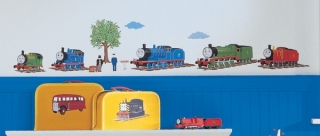 Party Fun & Games
The partygoers are in for a magical ride on Thomas the Tank Engine. Each child will have their own "car" (cardboard box cut out to look like a car) to travel to the three "lands", in each land there will be different activities such as games, songs and dancing.
Try doing a memory game where you hand out Thomas the Tank Whistles (12)
to each child and they have to repeat the same number of whistle blows you do.
Play a game of freeze jump (instead of dancing, the kids are jumping up and down.)
Teach the kids a song such as "The wheels on the bus."
Party Leader
Hire an actor or entertainer to bring spice to your party by narrating each of the three stops with stories and songs about Playland, Candyland and Toyland.
Party Tunes
We think a great idea is to dig up a sound effects tape or CD that makes good whistling and locomotive noises. Play it between stops.
Party Finale
When the train has come to its final destination, help the children wind down with a relaxing reading of "Thomas the Tank Engine", or for older children you can go another route and let them dive into this super fun Pinata, it's all up to you how you finish off this 'ch00-ch00' party.

Thomas the Tank Engine Pinata
Birthday Presents & Favors
Present each child with a Thomas the Tank Engine storybook so that they can relive the party over and over.

Decorate Your Own Vehicle Magnets Party Favor

Decorate Your Own Train Party Favor

Train Sipper Cup
Party Tips
To make the experience even more authentic, hand each child a train ticket with a car assignment. Ask the "passengers" to present your child with their ticket prior to boarding.