Valentine's Day Party

Valentine's Day isn't just for grown ups anymore. Hearts are making an appearance into more children's birthday parties now a days. Check out this exclusive party excerpt from Linda Kaye's Party Book.

Invitation
Sweeten up the invitation by sending along a small heart-shaped box of chocolates.
Party Settings
Invite the partygoers to help 'decorate' the room by dressing in pinks and reds. A vase with pink roses will make an elegant centerpiece and the pale pink buds will inspire guests to create their own delicate buttercream blossoms. Scatter red rose petals on the party table for a dreamy accent to the decor, and switch your usual light bulbs to pink ones to cast a rosy glow in the room. For an extra touch of Valentine's Day charm, use large doilies
as placemats and tie napkins with bows made of red licorice strings.
Party Fun & Games
Fill a pastry bag with pink, red and silver foil-wrapped candy kisses [and guess how many are in the bag.]
Valentine's Day Menu
Think pink and red when planning the menu! Use cookie cutters to make heart shaped sandwiches filled with strawberry cream cheese. A silver bowl filled with fresh strawberries adds that special touch, especially when accompanied by a plate of confectioners sugar for dipping.
[Set up the valentine tables with these personalized placemats. They look beautiful on the table and are a great favor to take home.]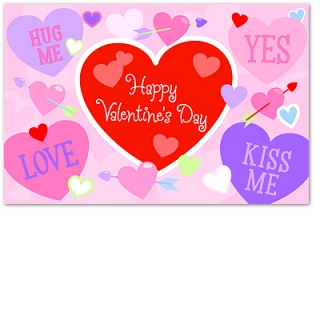 Party Beverage
Mix up a pretty-in-pink punch with ginger ale and strawberry sherbert [served in Disposable Champagne Glasses
] . Adults can sip on pink champagne as they toast the cake creation of their budding chefs.
Party Fun
Let the children select from a trunk filled with pearls
, boas
, and hats before they sit down to enjoy their special cake. This fanciful dress may even inspire a visit from Prince Charming himself!
Purchase from our Valentine Store

Heart Shaped Drop Tea - Love Is Brewing


Heart Shaped Diamond Confetti


Kissing Couple Personalized Candy Wrapper