Wizard of Oz Party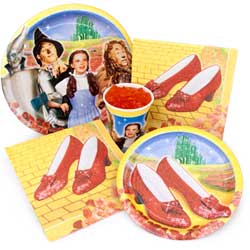 Wizard of Oz Basic Party Pack for 8
Birthday Child's Starring Role
Throw a birthday party somewhere over the rainbow! Let L. Frank Baum's story, known as the first American fairytale, add a quality of fantasy and adventure to your child's celebration.
Party Settings
"There's no place like home" and yours can be transformed into a storybook setting. With a thick black magic marker, trace a brick pattern on to a roll of yellow felt. Construct a rainbow balloon arch and decorate a corner of the room as "Emerald City"
Use the Ruby Slippers Personalized Banner to make it extra special.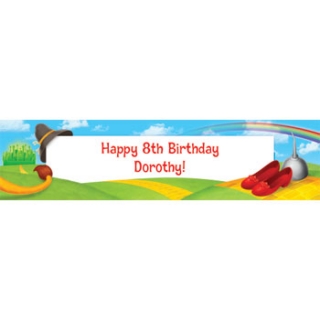 Party Fun & Games
If your guests are all girls, give them all a pair of ruby red slippers to wear so that they can always find their way home.
Play Pin the Heart on the Tin Woodsman or Pin the Tail on the Lion. Use these cardboard cutouts.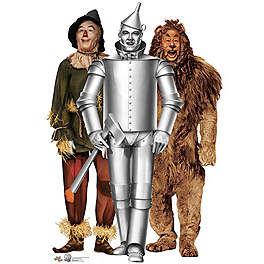 Scarecrow Scramble - For this activity, you'll need four sets of men's clothes (flannel shirt, jeans, socks, hat, and gloves) and four stacks of newspapers. Have the kids make scarecrows and dress them to make the funniest looking scarecrow.
Party Menu

Cover your food table with hay and a few haystacks to add height to your food items.
Serve a platter of heart, courage and brains cookies, over the rainbow cupcakes with rainbow batter, yellow bricks (rice crispy treats). Use wicker baskets to serve apples.
Party Favors
This Toto in a Basket is an adorable favor sure to make your guests feel like Dorothy.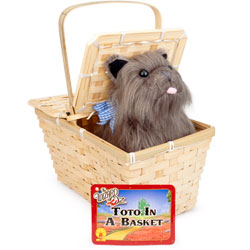 Or how about this Ruby Slippers Personalized Luggage Tag to make sure the guests' belongings always find their way home?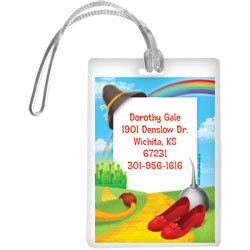 Party Extras:

Rainbow Pinata