Bake-a-Cake/ Decorate-a-Cake Party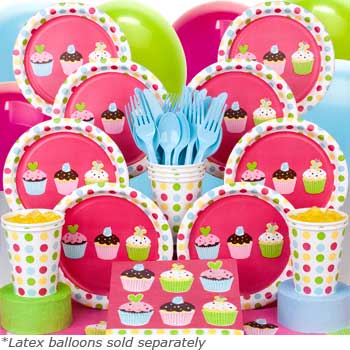 Birthday Child's Starring Role
Complete with a chef hat and apron, the birthday child takes center stage as all the children gather together.
Party Settings
Transform any room in your home to look like a bakery with the table set up with bags of flour, sugar and all the equipment and ingredients necessary for the baking of a 2-layer cake. Use this giant Mylar Balloon for floating fun.
Party Fun & Games
Children will love to mix batter, measure ingredients, color frosting and make flowers with pastry bags using a variety of different tips. Have plenty of tips and frosting ready to go so that all the kids can become involved. See more instructions on how to create this birthday party in Linda Kaye's Bake-a-Cake Party Book.
Party Leader
The adult "chef" should be able to lead the children in the baking and decorating of the birthday cake. The children do all the work under the direction of the leader.
Party Tunes
Classical music is the perfect background so children can listen to directions and focus on the activity.
Party Refreshments
Let them eat cake! But a few savory items beforehand. The kids will want to eat their cake more than anything so make sure their meal isn't so filling that they can't have their slice of cake afterward. Serve these beverages in these cute Pink Cupcake Cups (8)
which match the theme perfectly and prevent unwanted spills!
Use these placemats at the dining table to mark each child's seat.

Cupcake Birthday Personalized Placemat
Party Finale
Party guests will be proud as can be, to see their creations lit up on the birthday cake and even happier when they have their first taste.
Birthday Presents & Favors
Make the chef hat and apron that the children wear be part of their favor. Include a copy of Linda Kaye's Bake-a-Cake Party Book and maybe a Cupcake mix kit or game so that the children can replicate the baking at home without all the hassle. Or even this little chef set.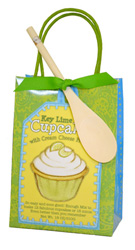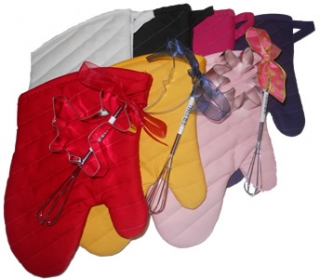 Personalized Natural Cotton Birthday Favor Bag

Personalized Birthday Cookies


Custom Fortune Cookies


Birthday Cake Cookies
Cupcake Plush
Party Tips
Don't let the children handle the oven or hot pans under any condition. Be sure the height of the table is appropriate to the age of the children so when they are standing they are able to comfortably reach the table to work at it. We recommend putting a plastic runner under the baking table for easy cleanup.