Superheroes Party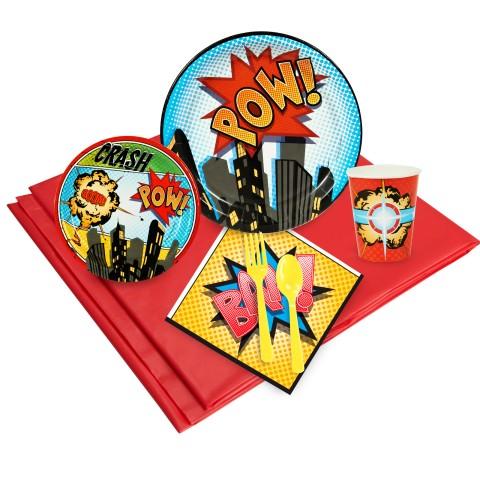 Birthday party invitation, Superhero Calling: Boy
Birthday Child's Starring Role
Have your child dress up as their favorite super hero and ask guests to come dressed likewise.
If they don't come in costume, hand out some superhero masks.
Party Settings
Make tall buildings out of cardboard boxes to provide a setting for the children to fly though! Set up an obstacle course around the party area so that your little heroes will feel really tough as they climb over and under the obstacles. Use theme colored balloons to add height to the room and make it look more festive.
For younger children and those who don't want to be as active, give them the greatest pleasure of coloring on the walls by covering a wall with a large piece of paper. Make sure the wall is completely covered, and then have an assortment of superhero crayons for them to color. Draw a cityscape ahead of time so that they can color in the buildings themselves.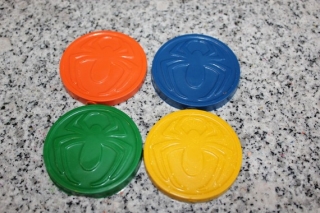 Party Fun & Games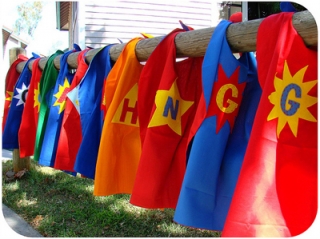 As each party guest arrives, present them with their own personalized superhero cape. Divide children into two teams for an Emergency Drill. Have an entertainer or a family member lead the kids through a mini superhero boot camp training to get them into the spirit of the party
Party Leader
Invite your child's favorite superhero to attend the party. It will get the birthday child and the guests very excited! If you don't want to pay the hefty price for an experienced entertainer, ask a friend or family member who is energetic and great with kids.
Party Tunes
Kindle your child's excitement weeks before the party by creating your very own mix of fiery and festive songs.
Birthday Presents & Favors
Each child's personalized superhero cape will provide hours of pretend play long after the party simmers down. Hand out superhero comic books, and give each child a personalized Drawstring Bag to place all their party items to take home.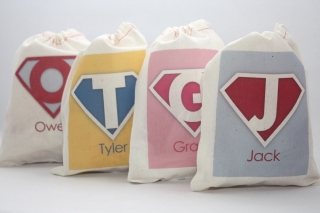 Fill it with a few themed items such as these Hero Fans with Candy or let them show off their toughness with their favorite superhero temporary Tattoos.

Spiderman Party Favor Set
Comic booksof their favorite superheros is another great favor to add to their goody bag.

Party Tips
Every birthday party should be a blast, but take this opportunity to let the children learn about exactly what's so important about the jobs of your child's favorite heroes!
Party Extras:

Superhero Fun Birthday Box

Superhero Fun Activity Table Cover