Luau Party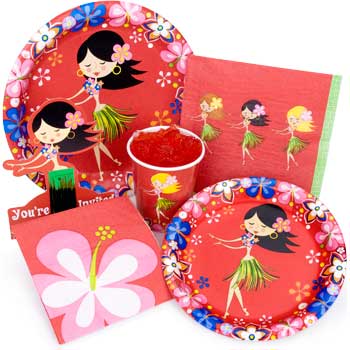 Birthday Child's Starring Role
Crown your child Hawaiian Prince or Princess. As royal Ambassadors of your Tropical Paradise, they can drape a flower lei around the shoulders of each arriving party guest.
Your guests wouldn't want to miss a party like this so be sure to send out your invitations well in advance.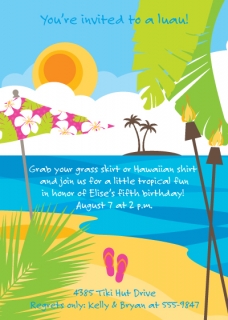 Party Settings
Spread a warm feeling of Hawaiian hospitality throughout the party room with bunches of large colorful blossoms and balloons anchored by pineapples. Hang giant banana leaves on the wall and bring any tropical houseplants you might have into the party room. And don't forget those Paper Lanterns
.
Party Fun & Games
Greet each guest with a spirited Aloha and a colorful Lei
. Distribute a hula hoop to every child, so that your dancers can warm up their waists. Then present each child with their own grass skirt.
Invite a Glittery Henna Tattoo artist to come to your party and bedazzle the guest's hands or arms. They will look beach ready in no time.
Party Leader
A grass skirt and the relaxing rhythms of hula music will transform even the most reluctant into a skilled hula dancer. In the weeks before the party, hire a hula dancer or rent an instructional video so that you can have the party guests learn some new moves.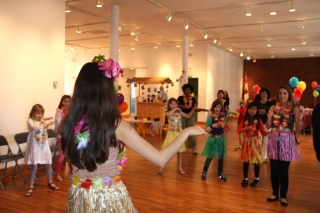 Party Tunes
Broaden your horizons with a collection of traditional Hawaiian music, as well as adapting the hula dance to your favorite tunes. Now a days they even have some more modern and upbeat styles of hawaiian music, so look for those to make the party more pumped.
Party Refreshments
You don't need to have a suckling pig in the middle of your living room to make the meal fantastic. Simple can go a long way: Kids love brightly colored, fruity drinks. Treat them to a tropical feast of mocktais served in these out-of-this-world glasses.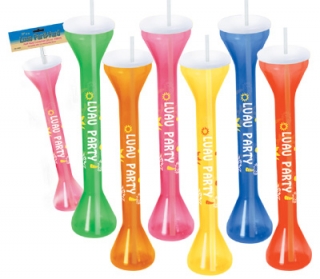 Or these Coconut Cups with a Straw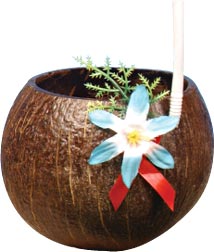 Have a platter of pre-cut fruit chunks and skewers so that kids can make their own fruit kebabs. Serve pulled pork burgers and pineapple rice and top off the table with these adorable hibiscus cookies.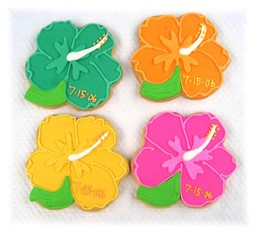 Make sure to have enough party plates too. We selected the Let's Hula Party Birthday Box above to keep it festive.

Personalized Summertime Cookies

Tropical Cutlery
Party Finale
See how high spirits can rise while your party guests find out how low they can go dancing the limbo. A broomstick or a rope work well.
Party Favors:
Don't let your guests go home empty handed, give them each a beach bag to take home their leis, hula skirts, coconut cups, and a few more treats that reflect the theme. The gummy fruit kabobs are great, they need no refrigeration!

Luau Gummy Fruit Kabob

Summer Treats Deluxe Favor Set

Flip Flop Favor Tote
Party Extras: