Harry Potter/ Wizard Party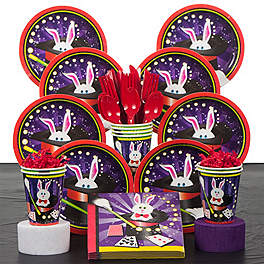 Harry Potter, Lord of the Rings and many other recent movies have made wizards and magic a very popular party theme. Every child loves magic powers and the ability to do extraordinary things so it makes sense that on their special day, they get to experience just that.
Entertainment
It's really a given what entertainment is the most popular for this party theme, a magician. Magicians can ahh and oooh the guests as well as their parents so it's a safe and extraordinary act to go with. If your party is more Wizard or Harry Potter themed, ask the magician if he can dress up as a character. This won't always be possible but it is worth to ask!
If you can, ask the magician to teach the children a few magic tricks that they can practice and then perform for their parents, even if it involves a children's magician kit which can then be a take-home favor.
Menu
You can have a lot of fun with this menu. If you are going for Harry Potter, look through the books and all the foods that are described in it such as Butterbeer, turkey feast, ham ; maybe you can replicate a few of them. If you want a more sinister and dark wizard approach, make spaghetti with tomato sauce and call it maggots, peel some grapes and call them eyes of toad, make chocolate cupcakes and call them dirt pots, buy some pretzel sticks and call them magic wands. Buy some mini cauldrons and use them as serving bowls and use apothecary jars or colorful glass bottles to serve beverages. Label them as veritaserum potion or polyjuce potion.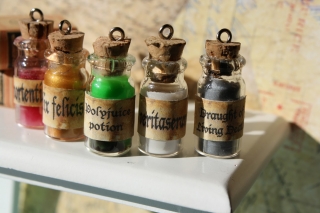 Games and Activities
If your child is a Harry Potter fan, he probably already has a couple of spells up his sleeve. For younger children have them practice their magic spells while you coordinate with another adult on different tricks they can try such as 'Lumos'- turning the lights on and off. 'Wingardium Leviosa' – lifting up the blinds and curtains. Make sure the adult switching the lights on and off is out off the children's sight. They will love to see their magic come to life.
Have the children create their own magic wands by giving them feathers, colorful string, glitter glue, and other items to stick onto a few wooden rods.
For older kids, with strict adult supervision, you can show them cauldron magic by getting a cauldron full of dry ice and having the children pour warm liquid into it. The cauldron will start to steam and the kids will get quite a kick out of it. To make it more fun, use food coloring to color water into different colors and put the water into different flasks or containers with obscure ingredient names written on them. The kids can pretend they are making a special potion by mixing many different ingredients together.
Decoration
If your child is really into Harry Potter, make the room look like the great hall. Pin a Hogwarts banner. Use fake candles on the table, use colorful fabric to accent the room in your child's favorite house colors (Gryffindor's red and gold are very popular.)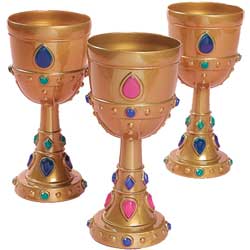 Serve beverages in a Goblet. If you want a more wizard look go for black and purple colors for paper goods. Solid colors and tableware can look great and give it that dark and austere wizard feel. If you have any Halloween decorations lying around in your basement you can re-use them. Place the stuffed black crow hovering over the food table, and place those spider webs on the bookshelf. If you have any over-sized books, cover them with brown paper and write the names of spell books on the binding, stack the books on a table for décor.
Party Favors:
Harry Potter themed coloring books, stickers and toys are great for the Harry Potter fans. You can also give out children's beginner magic sets so that they can take the magic home with them.

Magic Ultimate Favor Set
You can also get more Harry Potter themed goods by shopping at the Universal Studios Store and get themed items from the park such as chocolate frogs or pumpkin juice.