Pirate Party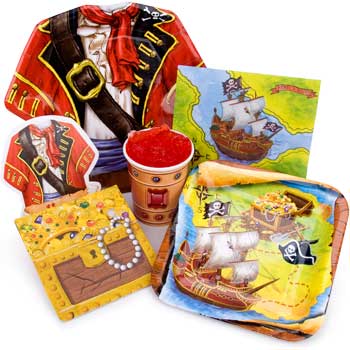 Pirate themed parties have varied along the years, it used to be that pirates were the bad and evil ones that haunted society, but after Disney's Pirates of the Caribbean we have a much different outlook on pirates. Many children now want to be Jack Sparrow and fight against the evil commanders.
Birthday Child's Starring Role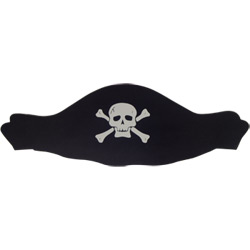 On the morning of the party, crown your child King or Queen of the High Seas. Present him with his very own pirate hat and the title of Captain of the Birthday Party Pirate Ship.
Party Settings
Transform your home into an island on which any sailor would hope to be marooned. Create pirate coves by draping double or queen-sized sheets over tables. Paint cardboard boxes to resemble wooden barrels and bring all your houseplants into the party room. You can even bring Exotic Birds
to your party. Don't forget the pirate-y pennant .
Entertainment
Balloon artists are great because they can cater to any themed party. They don't just make balloon dogs you know? Your little pirates will all love to battle each other with balloon swards and balloon hats. If you can find a balloon artist that can dress as a pirate that would be even better suited for your party!
A singer that can teach your guests pirate songs and tell pirate stories is also very engaging for children.
Antique photos are also a great keepsake of your child's pirate party. The kids will love dressing up and showing their friends and parents their one of a kind antique photo.
Menu
Use empty wine bottles for drinks. You can even create your own labels or draw skulls on them. Serve seafood such as shrimp cocktail or fish sticks for your little pirate guests.
Games and Activities
Capture the flag or a treasure hunt are great games for a pirate party. A Treasure hunt can be as long, short, creative as you want. Offer a prize for the winning team.

Pin The Eyepatch on the Pirate Game
Decoration
Skulls
, jewels and gold are the first things that come to mind when we think pirates. How about taking the edible approach to the décor. Make almost everything on your table edible! Chocolate coins, hard candies for the ruby and emerald jewels, boats made out of food items. We love the Treasure Map Tablecover
; as the base for our table.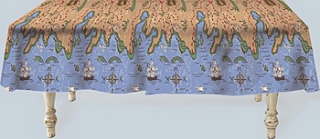 Party Tunes
Plunder your local music store for the soundtracks to popular pirate movies such as Peter Pan, The Pirates of Penzance, Hook, and even The Goonies.
Party Finale
Pirates sailed the high seas for years searching for treasure. Your party guests only need to follow your clues to discover a treasure chest brimming with bounty. Fill an old trunk or this Treasure Chest 3-D Centerpiece with Rhinestone Rings
, candy ring pops, candy necklaces, and gold chocolate coins.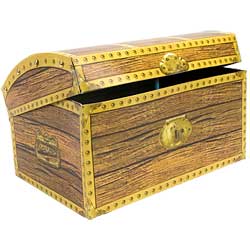 Chocolate Half Dollar Coins
Party Favors
Hand the little pirates their very own Treasure Chest
or Mini Pirate Buckets
filled with sweet treasure and pirate-y mischief toys such as eye patches, fake tattoos and gold coins.
Or these complete Pirate Ultimate Favor Sets.

Pirate Ultimate Favor Set

Pirate Treasure Map Activity Kit
Creativity for Kids Make Your Own Pirate Ship Activity
Party Tips
In order to prevent a mutiny of even the most courteous crew, pack your treasure chest with personalized loot bags filled individual treasures. Surround these bags with foil-wrapped gold coins and assorted candy to further enchant your wayward sailors.