Under the Sea Party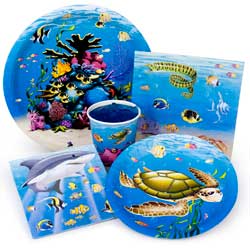 Birthday Child's Starring Role
On your child's special day, he will become an Expert Marine Biologist. Let them stir up the ocean's water with waves of birthday fun.
Party Settings
If you are lucky enough to live in a city with an actual aquarium, you can host an exciting and educational party there. If you would rather have a more private affair in your own home, you can turn a familiar place into a lively seascape by adding lots of blue streamers and balloons. Inflate different shades of blue balloons to different sizes and arrange them going up the wall to give the illusion of bubbles. Use blue tulle fabric on walls, staircases, and even on the floor to create a feel of being under the ocean. Don't forget the sea creatures. Stuffed animals and paper decorations add a lot to the aquatic feel.

Ocean Party Centerpiece

Ocean Party Wall Decoration
Party Fun & Games
As party guests arrive, set them to work on a seascape mural. Direct them to the blank sheet of paper hanging in the party room. Older children will enjoy filling the mural with crayon and magic marker drawings.
Party Leader
Whether a tour guide at your local aquarium or a weekend fisherman, invite someone schooled in the mysteries of the sea to provide some fun facts about fishy friends.
Party Tunes
Bring out the soundtrack to Disney's The Little Mermaid. "Under the Sea" would make the perfect theme song for this party, or just go for soothing ocean sounds.
Party Refreshments
There are as many possibilities for the menu for this party as there are fish in the sea. Snack on Goldfish Crackers, Swedish Fish or go the extra mile and get these colorful sea cookies.
Serve sandwiches cut in the shape of aquatic animals. Have candy sushi by piling Swedish fish on top of coconut cookies. And don't forget to label your food with these shell card holders: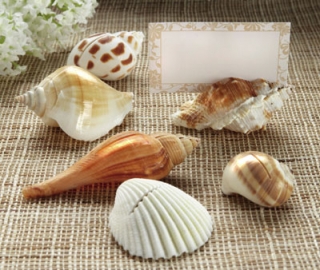 And with food labels.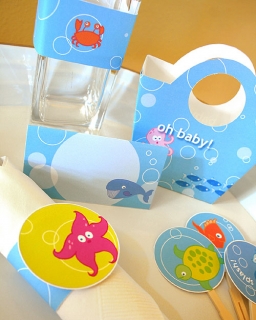 Use aquatic themed candy on your food table or use it as a party favor for guests to take home.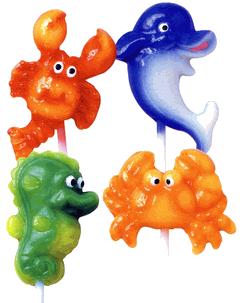 Party Finale
For an exciting and educational close to this party, enlist party guests' help in putting together an aquarium that will double as a special gift for the birthday child. Discuss the natural habitat of tropical fish and explain the components of an aquarium. You can do this with toy fish if you don't feel like babysitting fish for the next few months!
Birthday Presents & Favors
Send home partygoers with underwater treasures like their "tropical" crayons and coloring pads, stickers, or seashells. Or send each guest home with his own goldfish as a brilliant reminder of your aquatic adventure.

Deluxe Shark Party Favor Set


Sea Animals Sticker Book
Party Tips
If holding, your party at a public aquarium, try to find a special place just for your child and his friends by reserving a room at the facility if one is available.
Party Extras

Shark Birthday Box