Wild West/ Cowboy Party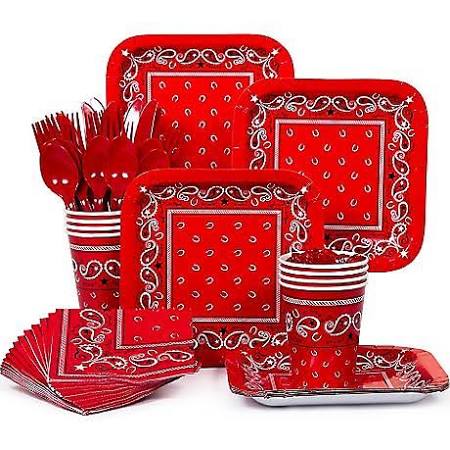 Birthday Child's Starring Role
Pin a badge on your child's fringed vest and appoint him sheriff of these here Birthday parts. Top him and his guest off with this great looking Cowboy Hat
Just make sure they don't send you to jail!
Party Settings
Tumbleweeds don't need to blow across your front lawn to give your home the feel of the wild, wild West. Make mini hay stacks out of cornbread squares and stack them on your food table instead; they'll be great with the beans!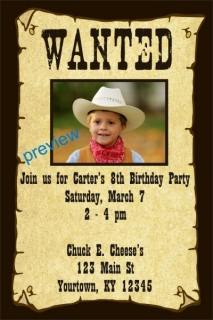 Send out these themed invitations to let guests know a new Birthday Sheriff is in Town. Ask your guests to come dressed in jeans and hand them out badges or these personalized stickers, they'll be ready for a rodeo.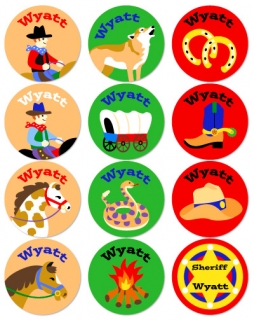 Party Fun & Games
The West has no boundaries, so offer a wide variety of adventures--everything from pony rides (if you have the space and a willing horse) to bean bag tosses. Pile a few empty soda cans and have kits use their best aim to knock them all down from a distance.
Party Leader
Invite a cowboy to play the guitar and sing some country and campfire songs.
Party Tunes
Break out your favorite collections of country and western hits to get your cowboys' knees slapping and feet stomping. If they are a fan of Hannah Montana, make sure to teach them the hoedown throwdown that they can all perform at the end of the party.
Party Refreshments
It would not be The Wild West without meat! Pile on the chicken, beef, hot dogs and hamburgers. Set out all the fixings and don't forget the potato salad and baked beans.
Birthday Presents & Favors
No respectable bunch of ranchers should run around without bandanas and hats. Hand 'em out as party guests arrive and let them wear them out the door at the end of the party.
This favor kit has all the above plus more.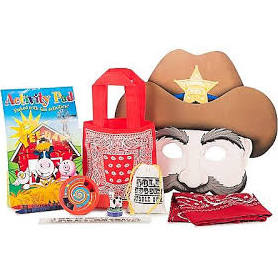 Party Extras:
Cowboy Deluxe Party Pack for 8
Cowboy Essential Party Pack for 8