By Katia Hetter, Special to CNN
May 24, 2011 9:05 a.m. ED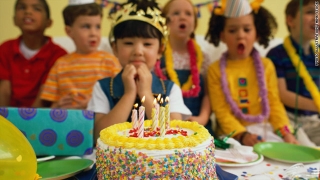 (CNN) -- The job of a children's birthday party host seems straightforward: Thomas the Tank Engine or princess theme? Traditional yellow cake with icing or ice cream cake? Jelly beans or arts and crafts in the gift bags?
To which we suggest a modern twist: Don't kill any of your guests.
For the gracious host, it's simply good etiquette. Sandra Beasley, author of the upcoming "Don't Kill the Birthday Girl: Tales From an Allergic Life" (Crown Books, July 2011), had to refuse most childhood birthday cakes because they could have killed her.
She stood on the sidelines at her best friend's 10th pasta-making birthday party when she saw that the ingredients included eggs, which make her throat swell shut.
"One of the biggest misconceptions is that people with food allergies want the whole event to accommodate their allergies," Beasley said.
"We will martyr ourselves rather than eat anything. A lot of people don't consider how socially embarrassing it can be. When I get hives around my eyes, people think they've made me start to cry. It doesn't make for a fun picnic."
If your child doesn't have allergies, there's a good chance one of your child's friends does. And that child will eventually appear at your home for a birthday party. About 4% of children have food allergies, according to the U.S. Centers for Disease Control and Prevention.
The CDC reports that the eight most common food allergens in the United States, which account for more than 90% of the country's allergies, are milk, eggs, peanuts, tree nuts, fish, shellfish, soy and wheat.
Before you freak out that your cake could kill someone, know there is help. Most of your guests don't need every dish to be allergy-free. They just need a few options. Many supermarkets now have more options, and so do cookbooks. (If the mere presence of a particular food could harm a child, a parent should tell you.)
Pure Knead bakery owner Michelle Kelly gets a lot of business from parents of kids with allergies and parents who buy just a few cupcakes for their birthday guests with allergies.
Kelly started her Decatur, Georgia, company a year ago after she couldn't find safe food for her now 7-year-old son, who is allergic to gluten, dairy and soy.
"We have so many parents who bring their children here," said Kelly, whose bakery is free of gluten, dairy, soy, nuts and shellfish (another common allergen). "I put out samples of four or five products, and the kids all look at their mothers tentatively for permission. They get to have that 'bakery experience' here."
Let's think of those little guests, those kids who don't get to sample cookies at Costco or cupcakes at the local bakery. That's a little kid you're asking to choose his health over that pasta or creamy ice cream. Imagine that with a few changes, you could be the superhero parent that will make these kids feel less like outsiders in your home.
Start with the invite
Veteran children's party planner Linda Kaye suggests including a sentence asking that the RSVP include any dietary restrictions. "This is a gracious way of saying that you would like to be sure to include something in the refreshment menu that would be allergy free," said Kaye, owner of Linda Kaye's Birthdaybakers Partymakers in Manhattan. "It's a thought very much appreciated by parents who have children with allergies."
Easy food fixes
Depending on the allergy, consider serving some nondairy sorbet or gluten-free pastries. Provide easily identifiable foods like pretzels or watermelon that won't be obscured in trail mix or fruit salad. (This will help smaller kids who have a hard time knowing what's safe.) Save any packaging from prepared foods so parents can read the list of ingredients for allergens.
Accept help
If contacted by the parent of an allergic child who wants to bring a safe dish, accept it graciously and place it amid the buffet. Do not stress that it doesn't match your food theme. Inclusiveness is more important. You might even allow that child to go first so they can be sure to get some of their special dish.
"I always come with a cupcake or something else that I make or get at a bakery," said Seattle mom Becky Moore, whose 8-year-old son has allergies to eggs, peanuts and sesame seeds.
"When people say 'Don't worry about it, I'm making the cake with the egg replacer stuff,' I totally appreciate it."
Building trust
Don't assume that kids who are old enough to be dropped off will always make the right choices. Have a quiet conversation with the parent about a child's allergies in front of the child at drop-off.
Children are taught to trust their friends' parents, but kids with allergies know that some adults don't understand their allergies. So make sure you understand what to do or tell the parent if you don't.
Party games
If you have a piñata or games with prizes, include nonfood prizes. (With the CDC reporting that 17% of children are obese and childhood obesity is on the rise, not every reward needs to be food anyway.)
Party favors
If any guests have severe allergies, make sure the gift bag snacks are wrapped, so they don't contaminate nonfood treats. Or consider going food-free in the gift bags. Beasley couldn't play with a toy that had been contaminated.
Extra credit
Make or buy a "safe" cake or cupcakes if you have a bakery nearby. You could also make a delicious Sandra-friendly chocolate cupcake that kids and adults all might like. Here's a recipe, courtesy of Sticky Fingers Sweets & Eats in Washington, D.C., which made it for a wedding Beasley attended.
Going the extra mile creates a lot of love for parents who are always striving to give their kids a "normal" birthday party experience. Pure Knead's Kelly can still remember one friend's graciousness toward her son.
"The birthday child was having a dog-themed party," she said. "They had a cake made in the shape of their dog's head, and a separate cake for my son made in the shape of a dog's bone with an icing bow on top. It was amazing for my child. It was amazing for me as a parent."
For more tips on having an allergy-safe party, please go to sandrabeasley.com.