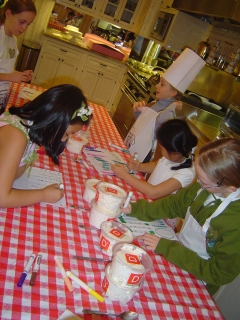 You all know we are famous for our Bake-a-Cake Parties, but now we are also launching our Decorate-a-Cake parties. This party is fully dedicated to decorating cakes and cupcakes. This party concept works great with children 4 and older. In the party they learn to make buttercream, flowers, basket weaves, grass, and every body's favorite, the buttercream clown!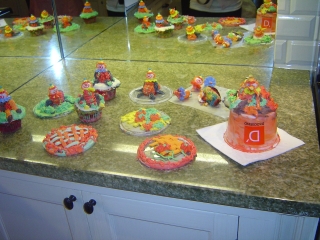 Some of the children's masterpieces.
We just hosted one decorate a cake party this weekend and the 10 year olds loved it. They were excited from the moment they saw their unfrosted tye died cupcakes to the moment they took a bite out of the cake they decorated all by themselves.


The sense of accomplishment after the party was tremendous. And every little chef received their very own Bake-a-Cake Party Book by Linda Kaye.
Linda Kaye's Partymakers hires professional Pastry Chefs to teach at these parties, so the children are learning from the best! They also ask them questions about their profession and become intrigued with the art of Pastry in a brand new level.
In the Decorate-a-Cake parties, children can decorate cupcakes with the flavor of their choice, and in the end they help the Pastry Chef decorate the final birthday cake, using all the techniques they learned during the party.