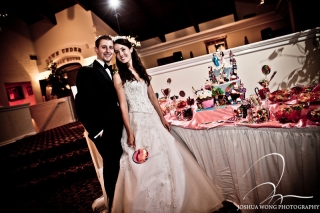 Our Partyhelper Sara was just married in August and threw a Candyland themed wedding that we had to share with you! This great idea works for kids birthday parties as well as a wedding! Here is her story accompanied by gorgeous photos from one of our Photographers.
It took us forever to figure out what theme to do for our wedding. Being a Partymaker, I needed a theme and I needed a really great and memorable party! I am obsessed with candy and sweets, and my husband loves the game candyland. I love the game just for the pure creativity of it! We figured it would be a really great theme!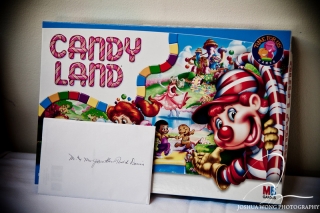 I knew I wanted a candy buffet, filled with colorful candies as well as our favorite candies.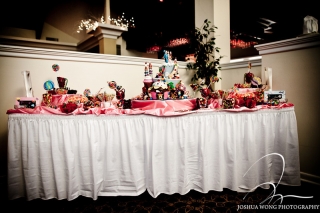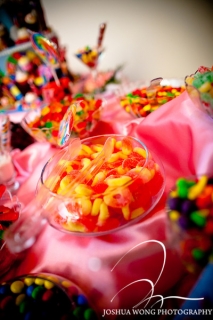 Runts, gummy peach rings, sour patch kids, gummy worms, chocolate malt balls, M&Ms, skittles. We had it all! Purchasing candies at a wholesale store made a big difference in the budget. We purchased ours at Economy Candy. All 80lbs worth. We also purchased unicorn pops and swirly pops.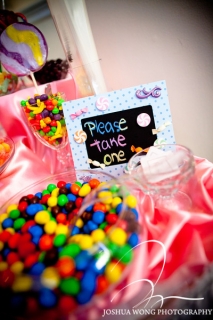 We had clear cellophane bags and seal stickers on the table so that guests could make their own favor bags. I made a little sign that said 'Please take one'. I liked this idea because it allowed guests to select as much or as little as they wanted and select their favorite candies as opposed to being stuck with a candy assortment which they don't like. I made the photo frames myself. I purchased some discounted frames at the craft store 'Michaels' and bought some chalkboard paper. I cut out the chalk board paper to fit the frame, added some cute candy-themed stickers and voila, a very cute homemade sign.
I needed the cake to be spectacular and fitting with the theme so I asked one of the top cake artists in the United States to create a cake based on the Candyland game. I gave her the board game and asked her to do whatever she liked. The result was the most spectacular cake I have ever seen.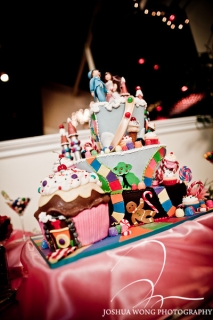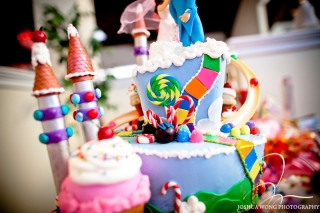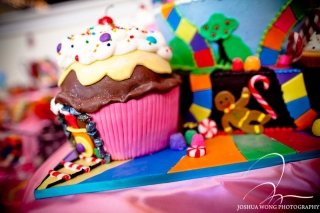 The cake was colorful and had fantastic detail! And did I mention it tasted amazing?
The table settings had to match the theme. Instead of flowers which become too costly we decided to use candy arrangements as the centerpieces. All the tables had different arrangements. This kept them unique and not cookie-cutter like.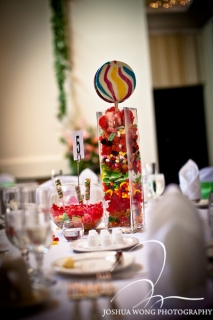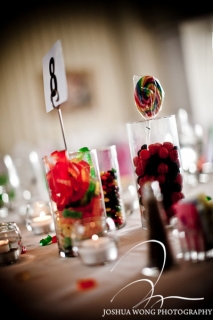 The kids were especially happy to have so much candy at their tables, even the adults tried to stuff as much candy as they could in their suit jacket pockets and purses. With 80lbs of candy there is really no need to be shy! We estimated 1lb of candy per guest. Sure we had some left over but we didn't mind it, as long as we didn't run out!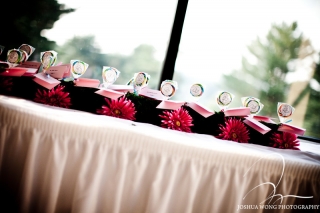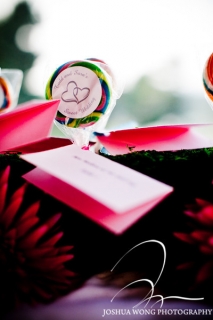 I wanted to stick to the candy for the name cards so I bought many small swirl pops with a personalized wedding sticker on them from Oriental Trading, attached the name cards with pink and blue ribbons and stuck them onto a moss covered piece of Styrofoam. The Gerber Daisies which were my wedding flowers also added a floral touch to the moss.
Making all of these items yourself really saves you a lot of money on a party. They require a lot of work but the end result is fabulous, just the way you want it, and very affordable.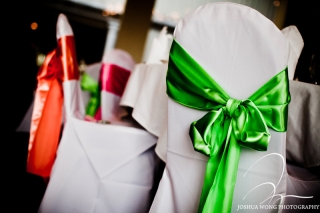 Colorful sashes on the chairs also added some fun activity in the room. It turned the plain white chairs into very vivid and bright seats.
So there you have it- a great wedding party that you can transform into a birthday party, christening, bachellorette party, any party where sweet color and fun are required!