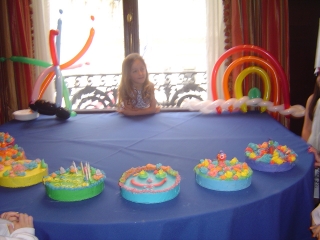 We just had a beautiful nostalgic moment this past weekend. One of our clients who had a Bake a Cake Party for her 9th birthday hosted a Decorate a Cake party for her 6th year old daughter at the NY Harmonie Club.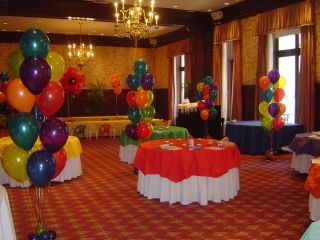 With 45 children, we needed to come up with a great idea so that the kids could be entertained and participating during the cake decorating component of the party. We decided on a rainbow theme where the 7 colors of the rainbow represented different decorating teams. And to enhance the excitement, we created the Ultimate Birthday Cake Challenge where each team had a leader that would teach them how to use a pastry bag and how to decorate with it.
The Harmonie Club has beautiful regal-looking rooms that are perfect for special events, but when you are throwing a 6 year-old's birthday party you need to make it more fun and colorful. That's why we brought in a lot of color and balloons.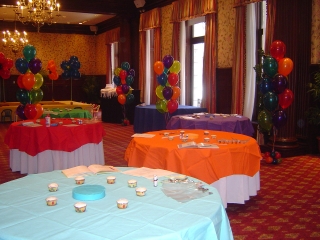 We loved the balloon trees and flower pods that brightened up the room. Each cake decorating table was also covered with a tablecloth that represented the colors of the rainbow.
Besides the decorating, there was also a face painter that dazzled all the little girls with her magical designs...
... and the most fabulous balloon artist who created custom jewelry, wands, dogs and other unimaginable creatures out of balloons.
You could see how impressed the party guests were when they entered the colorful room full of balloons and birthday cheer! While waiting for all the guests to arrive they accessorized their outfits with balloons and face painting. They also personalized their chef hat, a very important component that they would later need for decorating the birthday cake.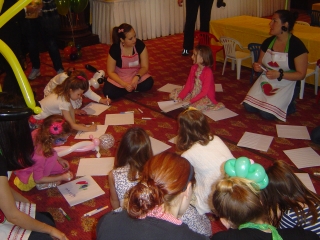 When the guests had all arrived they gathered in a circle and were told about their very important mission. They were going to be part of the Ultimate Birthday Cake Challenge, because the Pastry Chef didn't have time to finish The Birthday Cake!
In order to start on this mission they had to be sorted into their teams, so they picked a colored paper out of a chef's hat that corresponded to the color of their team. They dawned their aprons and met with their group and group leader around their respective tables. The tables were all set and ready for them. They had a multitude of pastry tips and practice paper, as well as a colored cake and cupcakes that they would decorate individually and take home.
The guests learned how to color frosting and how to fill pastry bags, they then learned how to make a multitude of flowers, and last but not least, their favorite, the clown!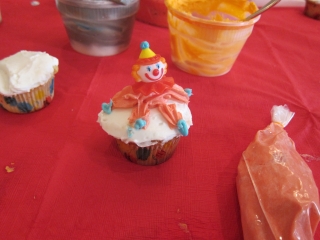 All the while as the children were decorating, a mock TV crew and reporter interviewed the children as they happily decorated away and sneakily tasted a few frosted fingers.
After perfecting their skills on their individual cupcakes, it was then time to decide on how to decorate the team's cake that they would then present to the birthday girl. The children chose their favorite flowers that they had made and transferred them over to the team's cake.
The cakes looked beautiful and so original! The teams were called up in order of their rainbow color and presented their cake to a gleaming birthday girl. The combined cakes made for a beautiful rainbow. The children were thrilled to have taken part in such an important component of the birthday girl's party.
25 punds of buttercream later, it was time for the guests to eat a few savoury nibbles. A beautiful buffet filled with kid-friendly foods, including ice cream, was a great hunger buster for all 45 kids. They all sat down to eat as they viewed the video of their cake decorating that was now broadcasting in the room's TV.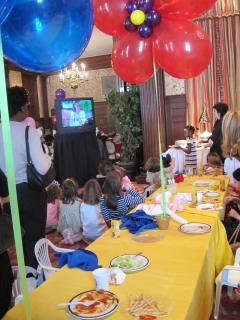 And after all the hard work and creativity that went into this party the final note was singing happy birthday and eating the cakes that the children decorated themselves. What a celebration it was, and a great big surprise when they saw the rainbow battered cake lying beneath all the buttercream!
It was a memorable party for the birthday girl and a nostalgic moment for the mother, who had once, many years ago also been in her daughter's shoes
The Talented Team Behind the Party