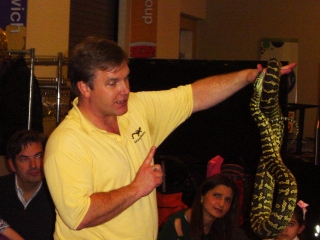 This past weekend we just threw a one of a kind party for a very lucky 3 year old boy! We took our safari party and put a very live spin on it, we brought real animals into our Birthday Room and the children learned, touched, and fed a wide assortment of exotic animals!
We created a partnership with one of our vendors who offer a live animal experience that your children will not forget. We select an age appropriate selection of live, exotic animals and wildlife artifacts and teach the children about these animals and a variety of habitats from around the globe. At these parties, children are encouraged to touch or handle animals and artifacts as they learn of the incredible attributes that allow these diverse creatures to thrive in their natural environments.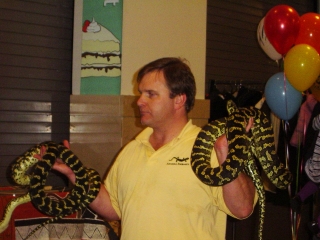 For our party we had a family of turtles, Ranging from mommy, daddy, big brother, little sister and baby.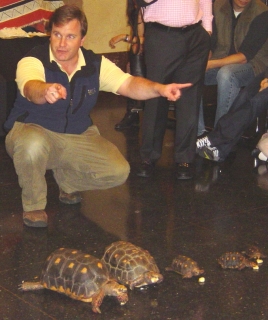 A couple of chinchillas and bunny rabbits.
3 different types of frogs, including the very clever and Red-eyed-tree frog that all the children were allowed to hold.
A very friendly and large iguana.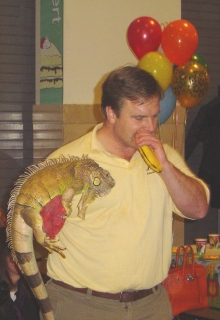 And numerous artifacts.
The three year olds at this party couldn't be more delighted that their safari adventure at the museum turned into a live adventure. All the children were happy to help feed and pet the animals, even grownups listened and interacted with as much avid attention.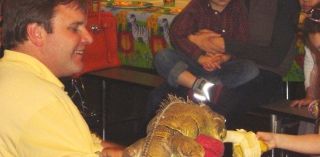 After the animal show, the children dawned their safari hats and explored the museum, with their newly learned knowledge and searched for the birthday crown for the birthday child.
The birthday boy also had a great surprise waiting for him at the end of his party, his favorite Cartoon character in cake form: "Brobee" screamed the birthday boy with a wide grin on his face when he saw the cake. It was definitely a birthday party to remember!