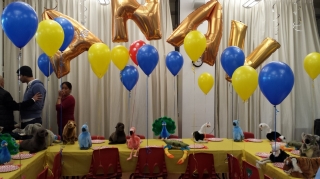 On a chilly winter day last weekend we transformed a school dining hall into a rolling, rattling, carefree Carnival birthday party!! As the guests ditched their winter gear for carnival wrist bands, a brightly suited stilt walker welcomed everyone with a swirl of rainbow ribbon, revealing a room filled with vibrant colors and activities!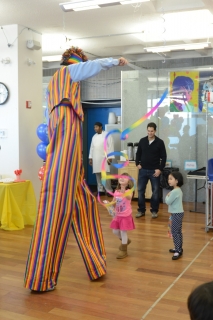 A simple, white dining room was transformed with blue, yellow and polka dot red balloons arranged in floating bouquets, a giant multi-colored arch and the 5-year-old birthday boy's name in shiny gold balloon letters.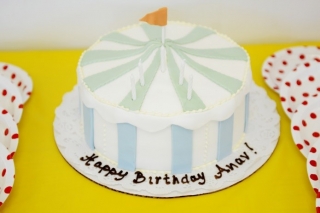 The kids' table was set with whimsical mix and match patterned paper goods in the carnival themed red and white with a contrasting yellow table cloth. A custom big top birthday cake anchored the room as an edible centerpiece! As the children explored the activity stations, adults mingled and snacked on crudité and cheese platters.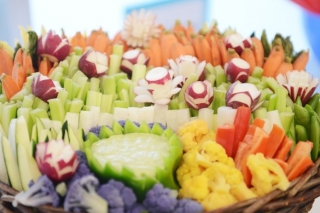 Everyone was a winner at the red and white striped carnival booth where guests tried their hand at plinko and ring toss and collected prizes in rainbow goodie bags.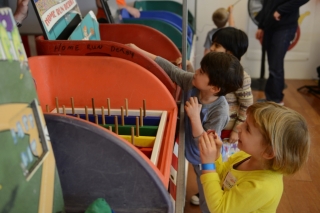 A visit to the face painter magically transformed the children's faces into tigers and butterflies!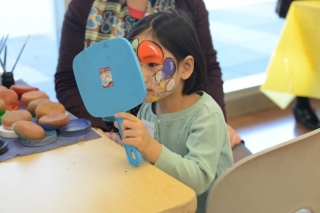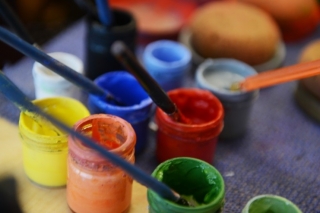 The kids chose from silly mustaches, hats and clown noses, posing against a rainbow polka dot backdrop at the photo booth station where our professional photographer snapped keepsake photos. Even the adults had some photo booth fun! He also roamed the party capturing candids so even the camera-shy were frozen in time! The hostess made sure to get a picture of each child to email to guests along with a thank you note! Great idea!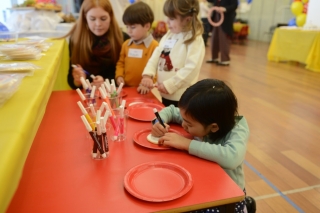 At the color-a-cookie station, the children created delicious art to take come, decorating custom designed circus cookies with edible ink and sprinkles.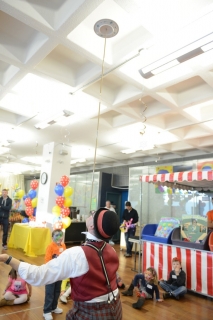 Once everyone had a chance to enjoy the carnival festivities, a circus show began as the Ringmaster Clown set up a center ring complete with juggling, a balancing act and lots of laughter. Of course, the birthday boy was the guest star of the show!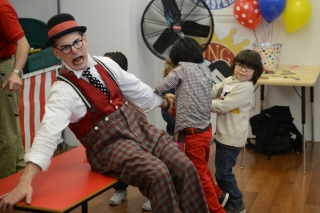 After the show guests enjoyed flatbread pizza, mini sliders and hotdogs as a balloon artist twisted up colorful hats and animals.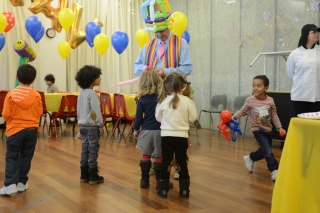 The Big Top cake was served up to the tune of Happy Birthday and the kids visited an ice cream sundae bar with a plethora of tasty toppings!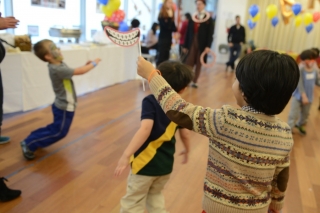 After cake, we turned up the music and everyone danced the afternoon away until it was time to go home. Each child got to take home a book, stuffed animal and a balloon to remember the magical day.