Planning your child's birthday party is always a fun and exciting experience (albeit a little stressful)! We always find ourselves wanting to live vicariously through the kids when they dress up as Rapunzel or break open the Piñata. For today's post, we thought it would be fun to give you some fun ideas for party food that will make you dig in as well!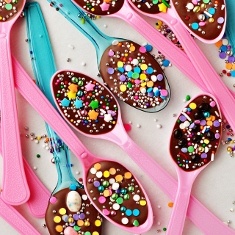 We spent days scouring Pinterest (our latest obsession), to find the best possible ideas and now have a final list of the very best sweet and savory party snacks! Check out our Fun Kid Food for Parties Board on Pinterest for more ideas.
Ps click on the links below to take you to photos and recipes on Pinterest (you don't need an account to browse).
1) Tie-dye Mini Cupcakes – These are cute, easy to make and small (which means a controlled sugar rush!)