What better way to kick off spring than with a custom Glow In the Dark Bat Mitvah Party? The Challenge: Take a beautiful historic hall and create the trendiest lounge in the tri-state area.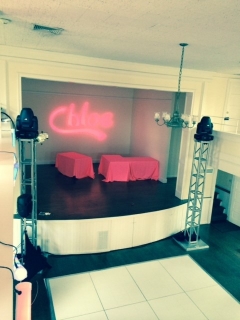 Creating a glow in the dark party is all about ambiance and initial impact. All of the birthday girl's best friends were greeted at the door with a customized sign-in board where they could leave their birthday messages.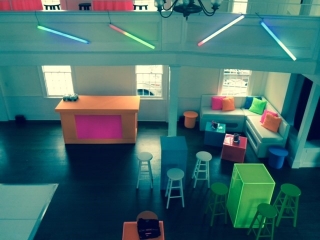 Knowing that the sun would set at around 8:00pm at our 7:30-11:00pm party, it was important to create a glowing disco with a personalized lit wall with the birthday girl's name, as well as a lounge full of bright fuchsia, electric orange, and vibrant lime sofas and café tables.
Guests could cluster and socialize at the lounge areas while setting themselves aglow with flashing rings, glowing sunglasses, and radical lit mohawks—"served" to them on glowing platters.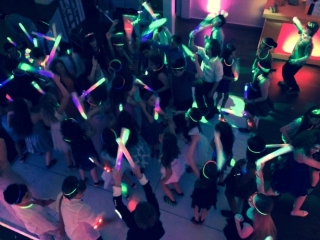 Once the sun was set, it was all about dancing! The DJ ensured he was set with only the birthday girl and her friend's FAVORITE songs, so every guest couldn't wait to dance and sing the night away while the lights pulsated with the music of One Direction and Katy Perry.
Guests even kicked off their (first pair of) high heels and were given their own socks to slip, slide, n' jive. When it was time to take a break from busting a move, guests flocked to the lounge areas for glowing jelly beans, headed outside to grab a delicious slice from the Pizza Truck, or enjoyed a Frozen Lemonade or Pina Colada-flavored smoothie from the Smoothie Bar.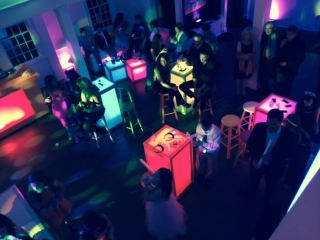 And just to ensure no one would ever forget their bright night, the PhotoBooth was set up to capture those lasting memories, and an Air Brush artist was on hand to create one-of-a-kind t-shirt designs for each guest to take home. Everyone's status updates and tweets went up immediately! "Greatest night of our lives!"