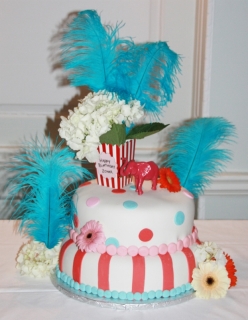 On a recent snowy Sunday morning, we put together a polka dot studded affair with a little dramatic flair for a special young lady's 7th birthday!
Ladies and gents of all ages were greeted by a rainbow colored stilt walker and given a clown nose to get into the spirit, entering the carnival room filled with activities. A backdrop of pastel Victorian décor was adorned with bright polka dots, stripes and towering multi-colored balloon bouquets. Guests had their faces painted with playful animals and designs, while a glitter tattoo artist added a little sparkle! A balloon artist twisted flower balloon bracelets and rainbow hats for the kids.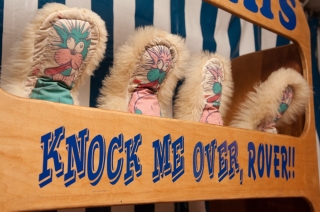 Carnival booths were setup with vintage games where kids filled their goody bags with prizes from the bottle ring toss and the fat cats knock-em-down! Little he-men and she-women took a swing at the high striker, their strength rewarded with a loud bell!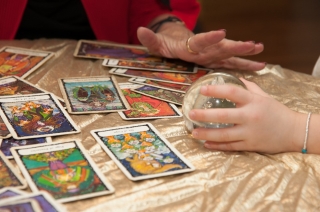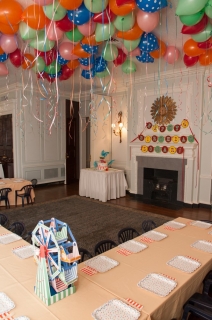 Once the party was in full swing, the center ring juggling show began! Framed by two brightly colored balloon trees, Jen the Juggling Clown wowed the crowd with an interactive performance that had everyone oohing and aahing.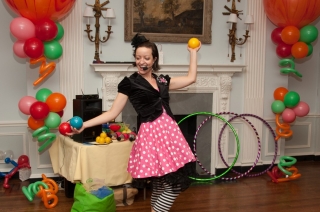 After the show, guests made their way into the elegantly decorated dining room to sing a rousing Happy Birthday to the birthday girl as she blew out the candles on her custom cake, topped with electric blue ostrich plumes and a pink elephant! What more could a girl wish for?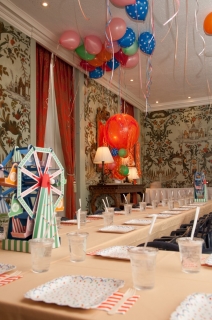 The children enjoyed a spread of grilled cheese, chicken fingers and other carnival fare under a canopy of multi-colored balloons, while the adults mingled while sipping on mimosas and freshly brewed coffee. The cake was accompanied by an ice cream sundae bar with an assortment of sweet toppings.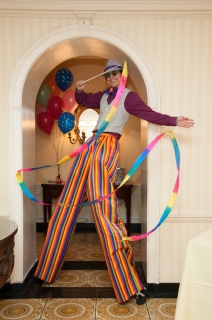 Good old-fashioned fun was had by kids and adults alike at this vintage themed carnival!