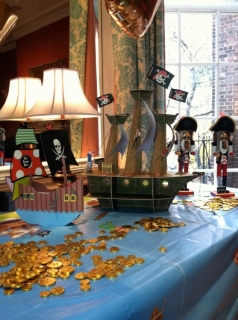 Ahoy ye mateys and distressed damsels! Throwing a themed party that boys and girls alike can enjoy is a challenge, but we sailed the seven seas of celebration with a Pirates and Princesses birthday party! A mix and match theme is a great way to make a party fun for everyone!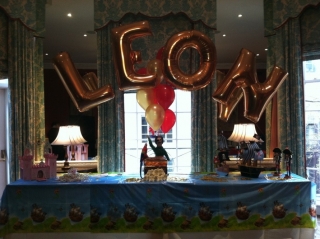 The guests arrived into a stately royal ballroom filled with pink and black balloons. Greeted by a swarthy pirate, the children were given eye patches and glitter tattoos to get into the spirit!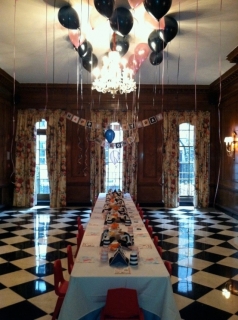 The décor was a work of art at this party with whimsical striped paper goods in contrasting pink, navy, black and red to weave the themes together.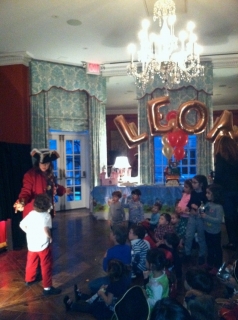 Each child sized chair was set with either a pirate or princess party hat, although some of the kids were already in costume! The birthday boy's name framed the room in a giant metallic balloon arch, a custom birthday banner draped the opposite wall and a conspicuous TV screen was transformed into a tribute to the Pirate of Honor.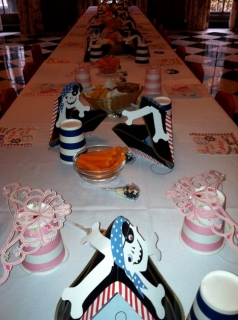 Ornate pirate ship and princess castle centerpiece flanked the dessert table scattered with glittering pirate's treasure.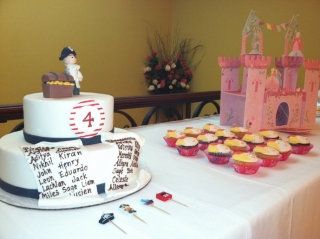 This client loved being a part of the planning process and we loved the décor ideas she found on pinterest!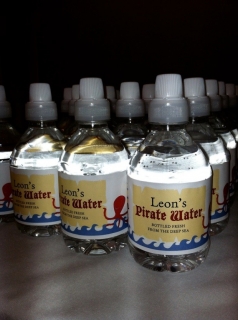 We loved the small bottles of water printed with custom labels that said "Pirate Water: bottled fresh from the deep sea". Adorable!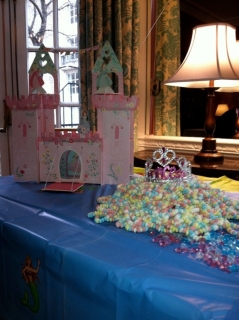 Once the guests had all arrived, a specially created puppetshow began featuring pirates, alligators, and even a parrot!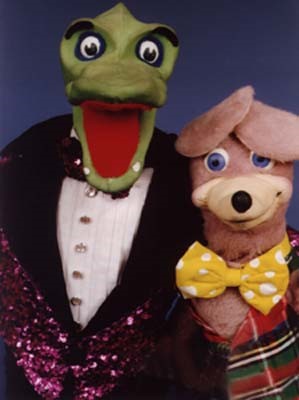 While the children enjoyed the entertainment, parents lounged in a room just off of the main ballroom and enjoyed a high tea set up just for the adults. We love this as an idea to make sure even the parents have a great time at the party!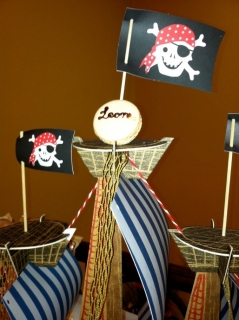 Sweets were abundant with adorable pirate and princess cupcakes and a cake inscribed with all the invitees on a pirates log. A mishap at the bakery left the birthday boy's name absent from the cake, so we did a little Partymakers quick fix and had a macaroon from a nearby patisserie labeled at the last minute!! It's rare not to run into small problems the day of the party, but when you've got a team of Partymakers at the ready, you'll never walk to the plank!