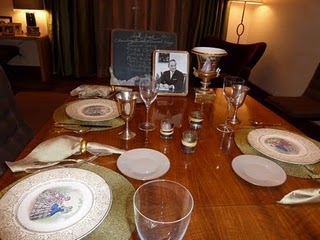 My father-in-law would have been 100 years old on February 18th. This was a perfect excuse to bring our family together to share our memories and thoughts about Emanuel Kaye. We searched through videos and found the perfect excerpt that characterized his personality.
The table was decorated with items that he had given us from his house. The antique plates added an extra touch to his memory, as well as the photo of him at the end of the table. It was truly like having him there with us to celebrate his birthday.
Each Family member was asked to bring any special pictures to share. We also ordered a reprint of the New York Times front page from the day he was born. The NY Times store can provide reprints as far back as September 1851. It was a great reminiscing experience.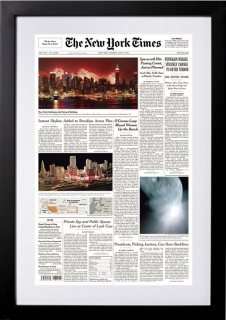 Deciding on the menu was the next step. There is a famous soul food restaurant Sylvias located in Harlem, NYC. With a play on words, I thought this would be the perfect meal to serve to celebrate the soul and memory of my father-in-law.I knew Bedilia, Sylvia's daughter as she was one of the caterers that I brought in for the Bloomberg Picnic in 2000 on Randalls Island.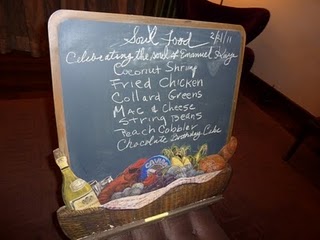 I wrote the menu on this blackboard. It's a great item to have, instead of printing menus every time you throw a party. Very eco-friendly also!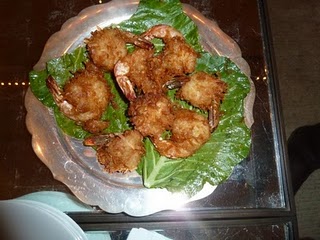 I planned the menu with Bedilia and ordered everything from Sylvia's except the cake.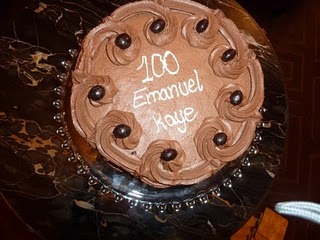 The cake with the design of the number 100 served as the centrepiece for the table. The cake was designed by Sara from Stardust Cakes, a talented and creative cake artist.
My father-in-law played the violin, so we searched our CD collection to have violin music play throughout the dinner. We selected his favorite violinist Jascha Heifetz and Beethoven's Violin Concerto.
Though he is not here to celebrate with us, it is a great time to share our family memories.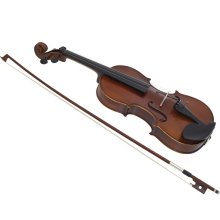 Happy Birthday Emanuel Kaye!