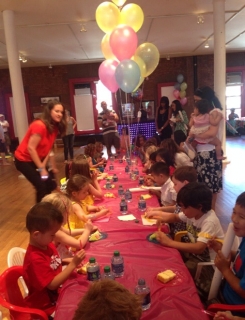 It takes a pretty hip six year old to desire a disco dance party and Linda Kaye's Partymakers jumped at this groovy opportunity. The result? One unforgettable neon celebration for kids and parents alike! Thirty six-yea- olds, and their parents, spent a June afternoon taking a trip down memory lane to the 1970s.
Upon arrival, guests were in awe as they entered a glitzy 70's dance hall (transformed by Linda's talented party helpers). Neon balloons, table settings, and disco decorations in VERY bright hues adorned the space.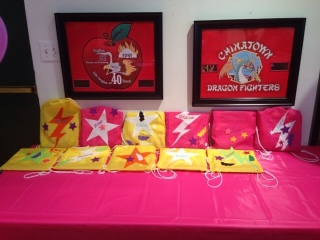 As our birthday girl is quite an artist, before dancing came craft time. Children found neon knapsacks with their names written on them lined up in the entrance. Inside was a special gift from Linda Kaye herself- her party cookbook! After these stylish knapsacks were decorated, they served as a means to collect flashy party favors throughout the afternoon.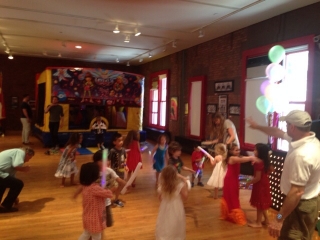 The hip young party-goers had a choice of many exciting activities: jumping around in the "It's a Girl" themed bounce house, shaking their groove things to the professional DJ, getting their hair braided in neon colors, and eating lots of yummy food.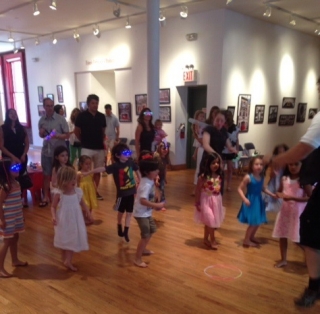 Parents and the kids alike loved the DJ who played the birthday girl's favorite tunes (mom sent us a list) and integrated games, hula hooping, and other fun activities. The hair braiders offered a selection of neon hair extensions for children to create their own far-out look.
Guests were even treated to a performance of Disney's Frozen "Let it Go" from the birthday girl herself! As the day progressed, guests became more festive as party favors including flashing rings, blinking bracelets, shimmering light-up mohawks, and neon flashing sunglasses were served up on a platter.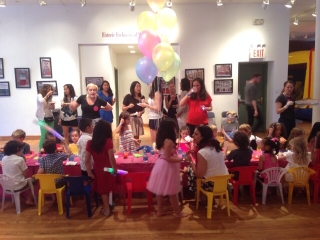 Parents enjoyed a gourmet brunch while the kids nibbled on pizza.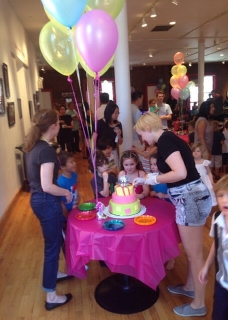 The neon cake adorned with a mirror disco ball (the afternoon's grand finale) was just as remarkable as everything else the afternoon offered. Guests grooved out the door wishing the party didn't have to end!