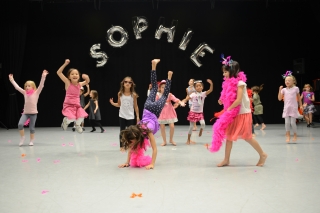 We have another custom party creation to share with you all! Makeovers and headshots and dance class…oh my! Last weekend, we threw a custom birthday party for a 7-year-old, transforming a Manhattan studio into an aspiring dancer's birthday makeover dream! Décor in the birthday girl's favorite colors of pink and teal set a festive mood and a playlist of her favorite songs blasted tunes like "Party Rock Anthem." After getting some extra energy from light brunch refreshments, the girls took the makeover station by storm.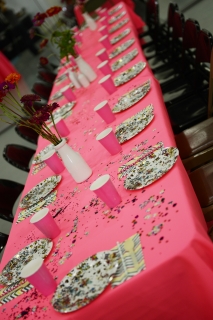 Against a celeb-worthy backdrop of bright lights and giant, shimmering balloon letters, each child had an opportunity to glam it up with custom makeup application by Partyhelper Emily before letting out her inner diva in front of a professional photographer's lens. Everyone posed for individual headshots, and there was ample time for silly group photos with hats, glasses, and boas, of course.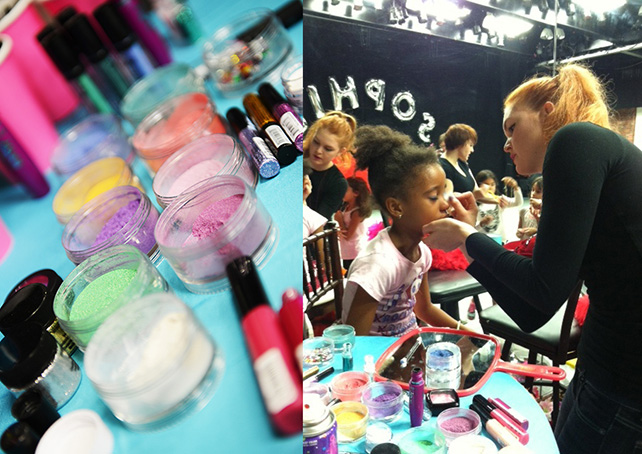 Next came a girl power dance class with a private hip-hop instructor. There was even a guest performance by a break-dancer! The girls learned some basic choreography, and every guest had a chance to freestyle with her best moves to get music-video-ready. The class concluded with a performance to Beyonce's "Girls (Run the World)" for the parents—and boy did they strut their stuff! Over a light lunch of fruit, cheeses, and wraps, the girls watched the video of their fabulous performance (their music video debut!) on a viewing monitor right from their hot pink banquet table.

Of course no birthday party is complete without an abundance of sweet treats, so guests visited our delectable pink dessert tables. With stylish fashionista cookies, lots of colorful gummies, mini cupcakes, and a custom whimsical pink and teal cake, there was something for everyone. There was even a soft serve sundae bar as the cherry on top of the whole sweet array—what a perfect end to a fabulous party!

The girls anxiously await their professional headshots to present to their Hollywood agents in the hopes of starring in Beyonce's next music video, or maybe just starring in the next birthday party!