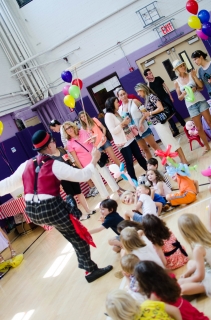 You may have noticed in the last circus party we wrote about that the venue was practically made for the event. But with our latest circus-themed effort, we had to build the carnival from the ground up! We decked out a school gym with three-ring fun for a joint birthday party for two young sisters, one turning 5 and the other turning 2.
After passing a colorful stilt walker at the door, guests were greeted with an array of carnival booths and games, including a test-your-strength station!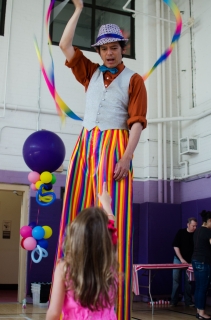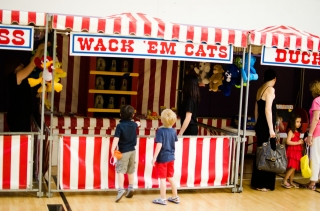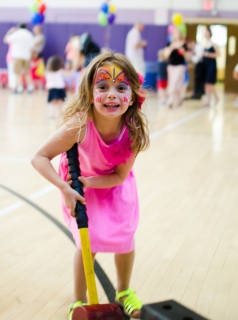 Even the grown-ups were psyched to try their hand at the games!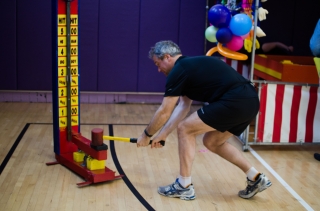 To collect their bundle of prizes, the little guests were given brightly colored backpacks. The client requested a homemade, personal touch, so we added each child's name with markers and loving care.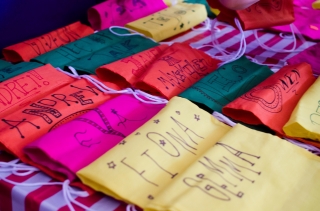 When we were planning the look of this party, we faced a bit of a quandary: we wanted to use the classic red-and-white circus stripes, but we couldn't ignore the purple and lavender walls in the room. So instead of fighting them, we put together a fun—and unexpected—red, white, and lavender color scheme for the kids' tables…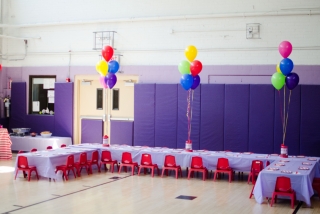 …complete with these cool clown nose-filled centerpieces...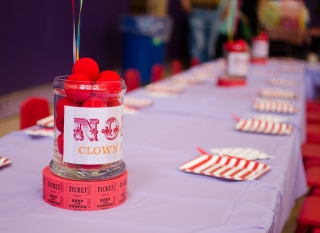 ...which the kids dug into happily!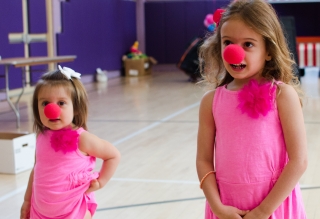 But if the clown noses weren't enough for guests to get into the fun spirit, they could pay a visit to our excellent face painter.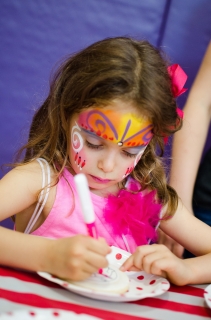 The festive atmosphere was buoyed by a gorgeous and refreshing buffet for the adults. We added some lemonade to the selection to complement the beautiful summer day outside.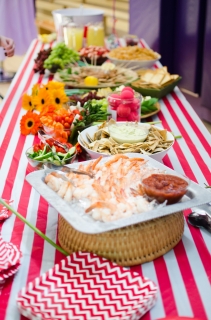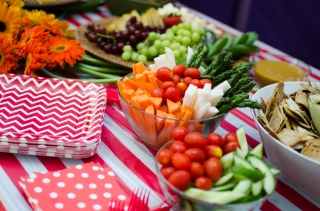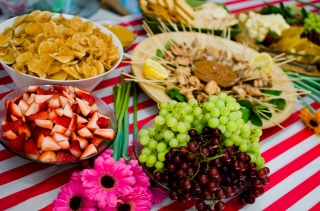 The performance centerpiece of the party was our clown, a seasoned performer with decades of experience and a resume that includes both the Big Apple Circus and Cirque du Soleil. His physical comedy show dazzled both the kids and the adults with humor and finesse.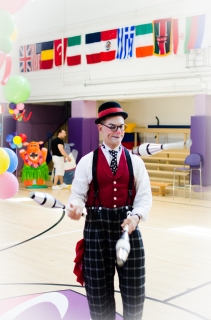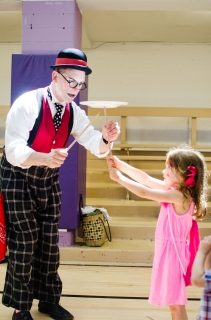 And as if to put the final flourish on how talented our performers are, halfway through the party, our stilt walker transformed into an awesome balloon artist.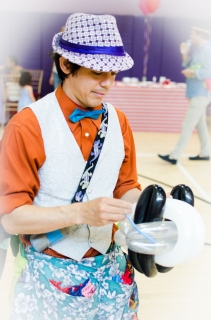 Who doesn't love winning the choice prize at the carnival? We wanted all the kids to be big winners, so when the clown show was finished and the kids were directed to their table for food, they were greeted by a group of soft and cuddly new friends.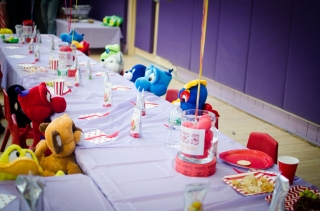 And finally, guests were treated to this yummy and beautiful cake, again designed to match both the theme and the venue.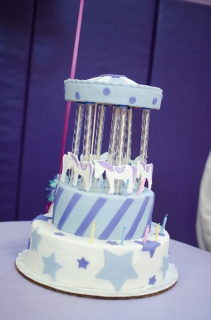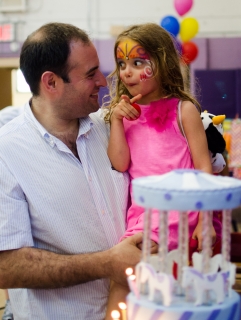 Seeing the birthday girls, their parents, and their guests leave the party with big smiles and prize-filled knapsacks was a wonderfully proud moment for us. We're so thrilled to have the opportunity to bring people together for joyful experiences every weekend. Whether we're just providing the finishing touches or building the party from the ground up like we did here, our work is ultimately the same: to mark life milestones with a joyful occasion that families remember forever.