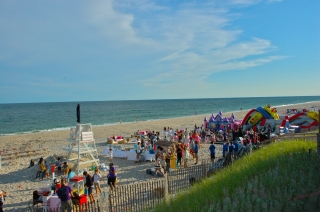 We have a refreshing Summer beach party to share with you all. It was a party we just did in the Hamptons on a beach.
A 6 year old and avid Barbie fan wanted the perfect pink soiree at the beach. Since the beach only closed at 5pm and we didn't want our 6 year old guests to be out at the beach in the dark, the party start time was called for 5:30 pm. With only 30 minutes to set up and a perfect floor plan drawn out, an efficient team of helpers were able to set the scene in no time! And what a fabulous party it ended up being.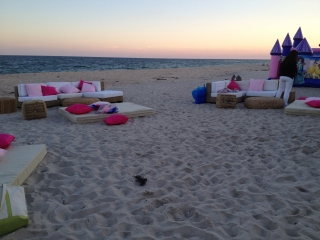 We created a perfect South Beach Setting; there were fabulous chaises and comfy sofas all with plush pink throw pillows and Turkish blankets, which made for a very posh and cozy lounging area.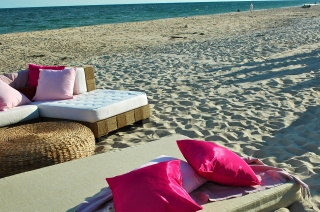 Rustic wooden picnic tables were simply topped off with lanterns. Perfect so nothing would blow away.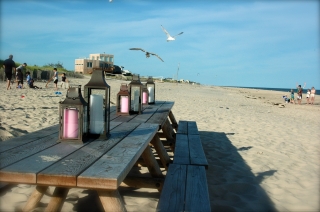 We set up a hardwood dance floor over the sand so that our guests could dance the afternoon away without having to worry about the wobbly sand.
Speaking of wobbly, there were two inflatables, one of which was a great pink bouncy castle that allowed the guests to bounce to their heart's content.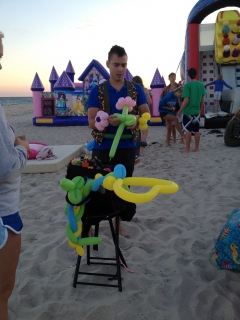 Balloon Artists and Face painters catered to each individual child's request.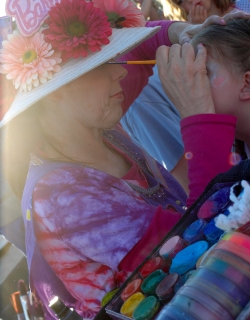 Our magician made sure every child experienced wondrous magic on that lovely birthday afternoon.
Since the birthday girl loved Barbie, we invited our very own Barbie to join the party. All the girls loved taking to her, getting her style tips and posing for a lot of glamorous shots.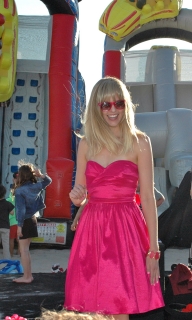 We had our Tiki Smoothie bar come and set up shop at the beach with a very special signature pink drinks especially made for the party: Frozen Pink Lemonade.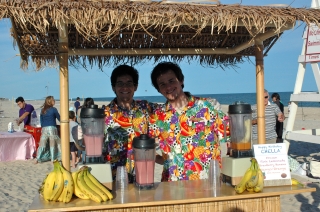 The sky was blue and the sun was at its most perfect golden hour, what a beautiful setting for the most refreshing summer party.
No party is complete without birthday cake so there was a Barbie cake made especially for the birthday girl.

The party ended with the sun setting over the ocean. It was a beautiful and memorable sight for all to see.